16 reasons to adopt a headless commerce approach
As ecommerce grows more competitive, more leading brands are switching to headless solutions solutions over limiting traditional platforms or expensive custom builds.
November 04, 2022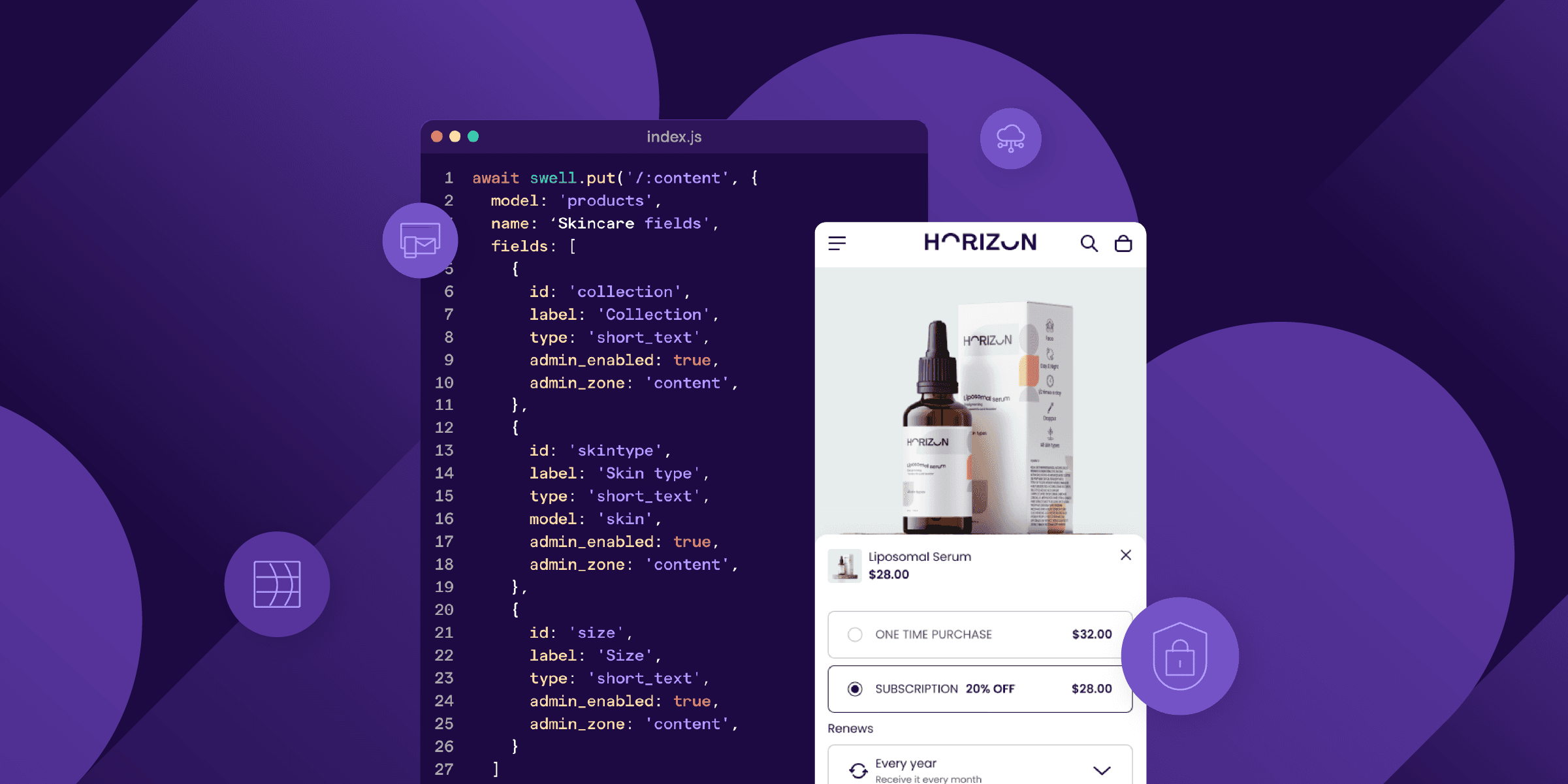 Total control of your storefront, reduced maintenance costs, reduced TCO – there are many benefits to going headless (a platform with a decoupled frontend from the backend).
Brands like Nike and Recess are already leveraging the power of headless architecture, with composable commerce widely pitted by experts to be the next major ecommerce trend.
Here, we outline the top benefits of choosing a headless platform.
1. Total customization
Give your team complete ownership over the storefront and shopping experience. Thanks to flexible APIs, you can achieve the unique look and feel that your brand, creative, UX, marketing, merchandising and commerce teams envision.
2. Limitless shopping experiences
By separating the frontend from the backend, you can natively operate a truly consistent omnichannel strategy from one backend.
3. Total control over processes
Be in control of your architecture, enabling you to configure and optimize your internal business processes and team structures.
4. Improved performance
Achieve and maintain faster page load times and time to interactive by leveraging modern frontend technologies, such as SPAs, PWA and Static Site Generation.
5. Better SEO and SERP rankings
With faster page load times and Core Web Vital scores, Google and other search engines will rank your site higher organically than competitors..
6. Flexibility
Give your team the ability to select specific solutions that are right for your business across all solution categories. Best-of-breed and "best for me" components can be selected and integrated with ease into your overall solution.
7. Reduced Total Cost of Ownership (TCO)
Monolithic commerce platforms often require you to pay extra for extensions and third party apps for similar capability sets. A headless architecture gives you the freedom to purchase only what you need.
8. Reduced vendor lock-in
Adapt your solution over time and switch components in and out with ease.
9. Reduced risk
Adopt an iterative approach that makes decisions smaller and less risky, rather than spending years on decision-making cycles around replatforming.
10. Increased agility
Empower your teams to execute changes and updates faster, more efficiently and proactively.
11. Scale with demand
Scale with the peaks and troughs of trading, and through high-volumes of traffic and orders, without breaking a sweat.
12. Reduce maintenance costs
Realize cost savings by eliminating the maintenance resources required to keep old software  running on your own servers.
13. Lower IT costs
Tap into a large and fast-growing market of talented javascript developers, rather than hiring specialized developers for a specific commerce platform.
14. Business agility
Enable your business teams to execute on your vision quickly and without over-reliance on developers. Headless architecture can unlock rapid experimentation and a faster time to market from idea to production.
15. Consistent integration patterns
Leverage common design principles and open source libraries through webhook and event systems instead of relying on proprietary languages and frameworks.
16. Future proof your business
Headless architecture is designed to handle whatever might come next, whether that's a new channel or new backend solution.
Many of the above benefits all amount to better shopping experiences that improve conversion rates, increase average order values and, ultimately, grow your bottom line.
Please note: Implementing a headless solution on its own may not immediately deliver all of the benefits highlighted above. Many of these benefits come down to decisions made during the implementation process itself, execution and organizational change required to make the most of your new headless architecture.
Want to learn more about headless?
If you'd like to learn more about headless commerce and how Swell can help your organization realize the benefits highlighted in this article, please reach out to speak to one of our commerce experts.
Join our mailing list
Get the latest from Swell,
right to your inbox