A fresh coffee brewing experience for the digital age
Spinn created a DTC marketplace linked to a mobile app and IoT brewer, allowing customers to purchase the coffee they want, on the ordering schedule of their choice — all powered by Swell.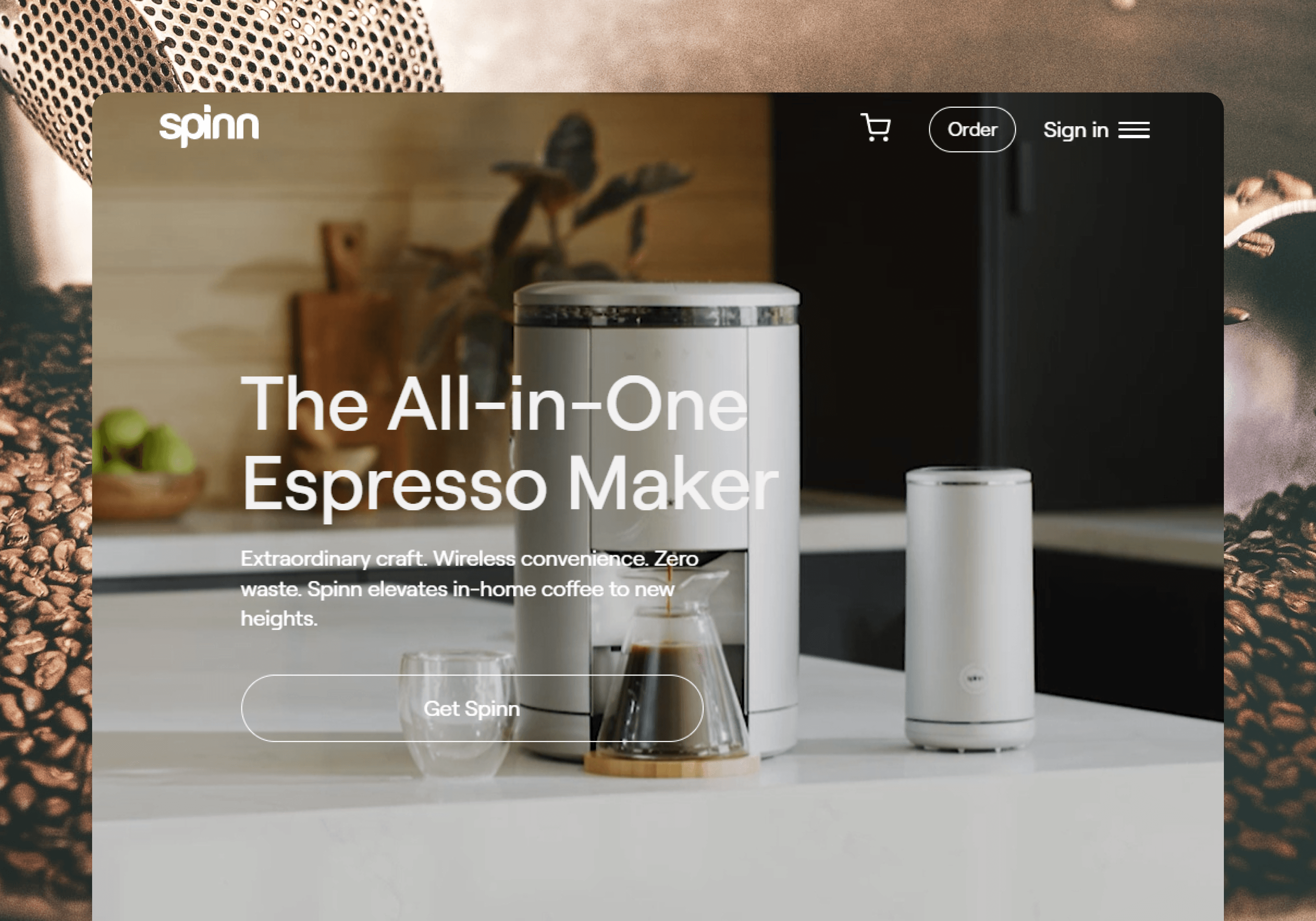 About
Spinn coffee is a cutting-edge coffee maker that combines technology, convenience, and sustainability. This smart device allows users to customize their coffee experience through a mobile app, which offers a range of brewing options, including grind size, water temperature, and coffee strength.
Challenges
Spinn coffee faced several challenges in their quest to deliver an endless supply of customized coffee at home. One of their major obstacles was the need for a seamless coffee marketplace that integrated with their WiFi-enabled coffee brewer via a mobile app.
To address this challenge, Spinn created a multi-vendor marketplace of roasters, offering over 1000 different coffees. They then developed a mobile app that presents these coffees in an intuitive, engaging, and user-friendly way, helping customers choose the perfect blend for their taste preferences.
Spinn also recognized the importance of providing a vendor dashboard for roasters, allowing them to manage their products, orders, brewing recipes, and promotions. This dashboard ensures that the marketplace runs smoothly and that vendors can easily showcase their unique products.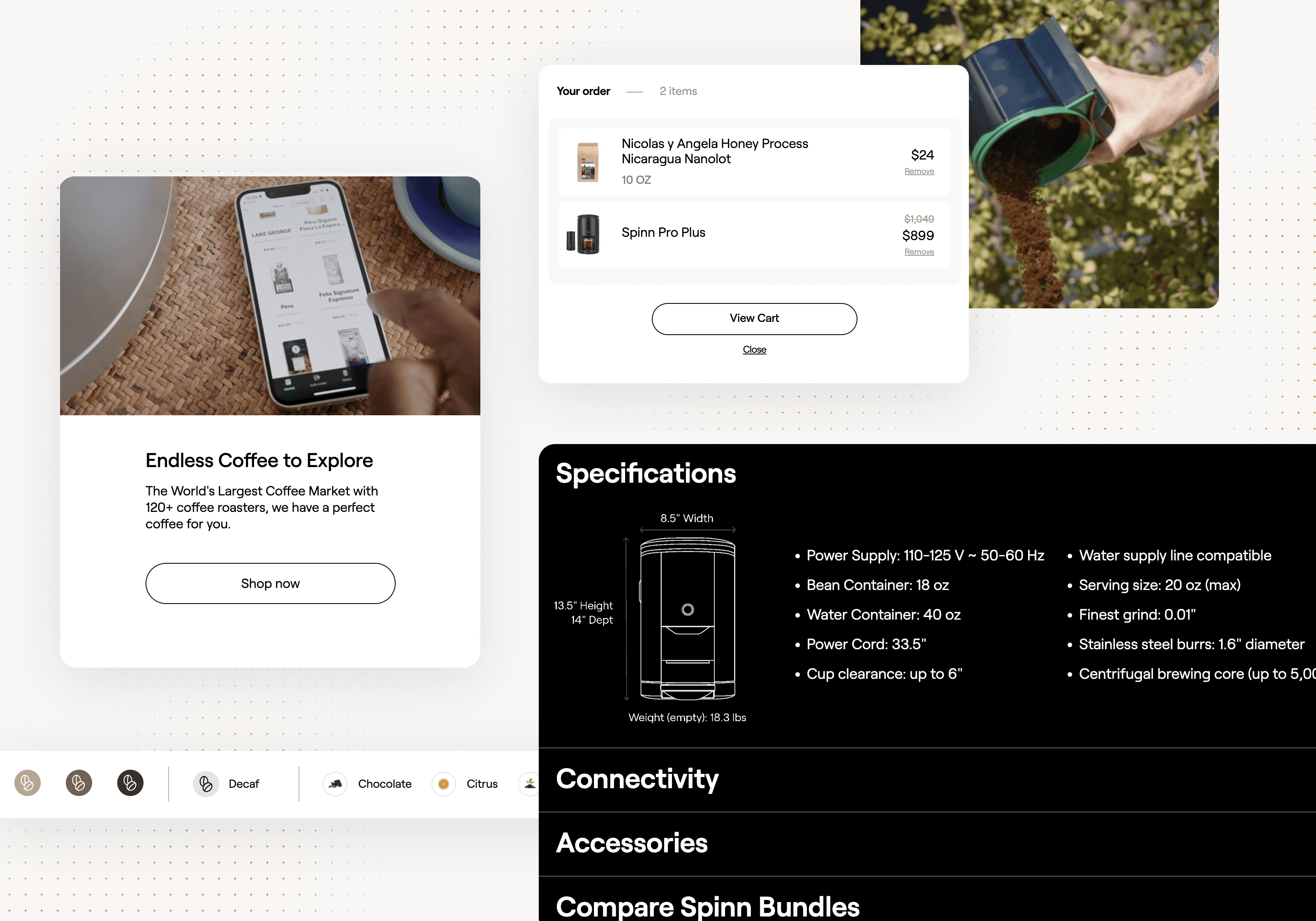 Solution
A fully integrated marketplace, with clear onboarding and vendor requirements for coffee roasters, and a seamless ordering and delivery experience for customers.
With Swell, they were able to develop an ordering system that would enable customers to order their favorite roasts on a one-off, recurring, or as-needed basis, all through the mobile app. This required both manual and automatic ordering options for maximum flexibility and convenience.
A complete ecosystem
Spinn's vision was to create a marketplace similar to Amazon, where they could sell their patented coffee machine alongside a diverse selection of coffees from independent roasters. With Swell, Spinn was able to bring their vision to life, providing customers with an extensive assortment of coffee options and their innovative coffee machine in one convenient platform.
A handsfree, supplier-driven product management system
Roasters upload coffees for sale with detailed information like tasting notes, origin, flavor profile, and a brewing recipe. Vendors and their products only become visible after approval.
Integrated marketplace, linked to a mobile app and IoT brewer
Customers select the coffee they want, with filters for roast, flavor, and origin. Scanning the bag programs that coffee's recipe into the machine, and coffee can be automatically re-ordered when the machine detects that it's running low on beans.
Subscription payments functionality
Coffee is a daily (and sometimes hourly) ritual for Spinn's customers, and the company recognized the need to offer a membership option with free shipping, similar to Amazon Prime. Using Swell, Spinn was able to provide customers with a seamless and convenient membership program that includes recurring and automatic ordering options.
Hassle-free payments via Stripe Connect
Working with 400+ vendors and thousands of customers, Spinn's marketplace needed an easy way to handle split payments. Swell uses Stripe Connect, enabling Spinn to easily onboard vendors and take a cut on all coffee orders.
Swell has been like a spring for Spinn, allowing us to efficiently grow and scale our business.
Roderick de Rode
CEO