Blog
/

What to look for when choosing an ecommerce platform
What to look for when choosing an ecommerce platform
It's not enough to just sell in 2022 – today's customers expect an immersive buying experience. Finding the right ecommerce platform that lets you sell creatively is what will set you apart from competitors.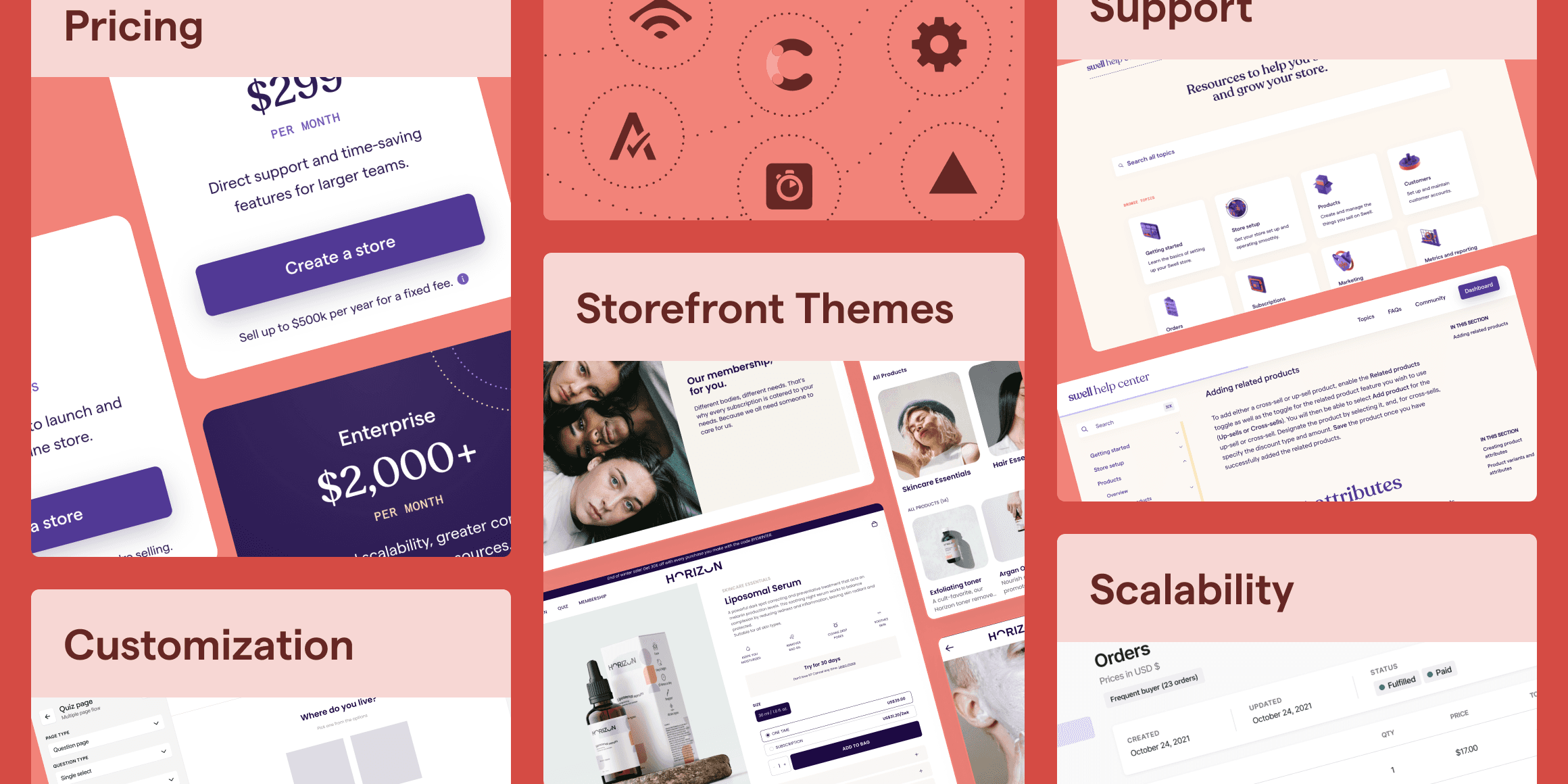 From quiz buying flows that curate product selections to bespoke subscriptions, today's customers expect personalized shopping experiences that put them in the driver's seat. The ability to customize, scale and adapt are key for the modern merchant to succeed.
In such a competitive industry, it's important to understand what tools are available to you and how they differ. That starts with selecting an ecommerce platform that will work best for your brand long-term — in 2021, 39% of retailers found that investing in the right ecommerce platform greatly improved their conversion rates.
Here's 6 factors to consider when choosing an ecommerce platform.
1. Pricing
Many ecommerce platforms offer tiered pricing that looks something like this:
An affordable entry-level plan that includes the bulk of the platform's features
A moderately more expensive plan that only adds on a couple of additional features
...and a significantly more expensive third plan, that includes only one or two additional features that don't add much value.
Most business owners prefer ecommerce platforms with plans that reflect a range of growth levels. If you're just getting started, you might not be able to afford to purchase a plan at all. In that case, you might opt for a platform with a free plan that only requires payment when you make a sale. This guarantees the service will only cost you money if it's providing value.
As your business takes off, you'll want an ecommerce platform that can grow with you.
Make sure you have the option to scale for a variety of business models and challenges and avoid the pains of replatforming. Swell offers three pricing plans — Community, Standard, and Enterprise — designed to support you at every step of your growth.
2. Maintenance
In today's fast-paced market, you need to be able to quickly create a digital touchpoint without relying on a development team to set it up and keep things running smoothly. Choosing the right platform from the start can help you avoid rising costs of store maintenance.
Today, many leading platforms provide a ready-made storefront theme to help you launch fast. Configurable through a CMS, this means you can build your store without needing engineers and get to market faster.
Swell offers two optimized themes at store setup that are perfect for starter projects: Origin and Horizon (coming July 2022).
Both themes include page templates, sections and common components and take just a few minutes to set up, meaning you can start listing products right away through an intuitive dashboard. Plus, since they're built with Tailwind CSS, you can customize and change your design if you bring in an engineer.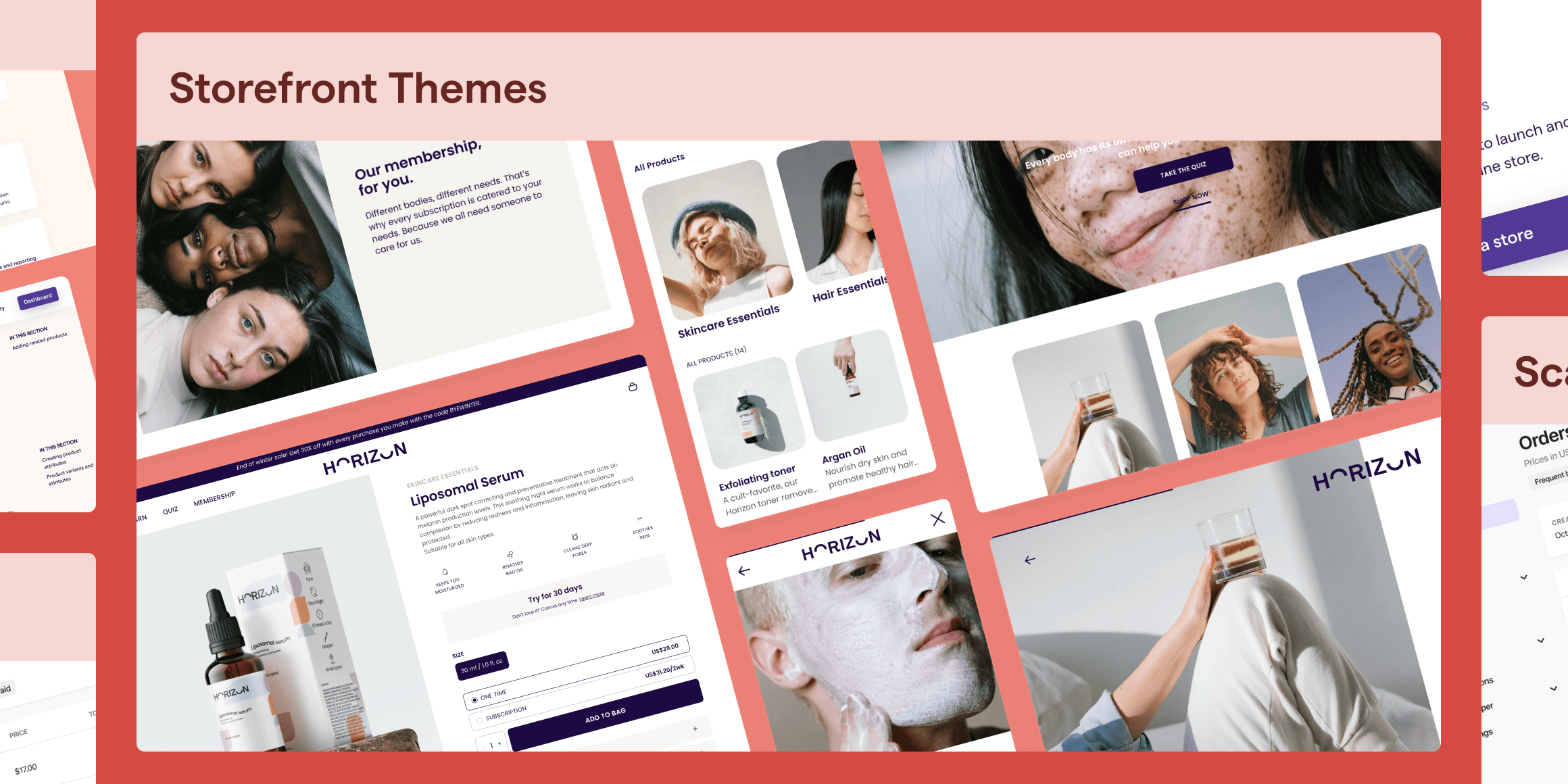 Launch fast with Horizon, Swell's ready-made storefront theme.
3. Personalization and customization
Experience, or experiential marketing, is at the forefront of digital sales trends in 2022. It isn't enough to sell quality products — today, merchants need to offer an immersive experience that puts the customer in the driver's seat.
A well-designed and personable shopping experience will keep customers on your site for longer. Customers want to know what products are right for them, and the more choice they have, the less they tend to know what they want. Finding out what they like and showing them products tailored to that preference will minimize choice paralysis, and ultimately increase sales revenue.
You can learn more about your customers' unique needs through quizzes. Swell's upcoming storefront theme, Horizon, features an advanced quiz builder that lets you collect data on customers and recommend products they'll like best.
In addition to personalized shopping experiences, having the freedom to customize your store design will help your business stand out.
Swell's platform can be fully customized to meet your company's design needs. It's built with a flexible application programming interface (API), this means you can tailor your storefront without starting from scratch — with lower costs than custom and less developer resources.
Diamond retailer Great Heights took advantage of Swell's customization by using a serverless architecture, making it easy to improve their customer journey to scale with demand.
4. Built-in features
Choosing a platform that integrates popular tools and services can vastly grow your business.
Headless architecture is increasingly popular for this reason. Working with a headless platform (where the front-end is decoupled from the back-end) opens your business up to a range of extra features as third-party integrations. This can add depth to your customers' shopping experience, without needing a patchwork of costly external apps.
Swell offers 25+ third-party features that seamlessly connect to your store; from automated workflows like Alloy, to checkout options through Klarna and QuickPay. This means you can spend less time searching for add-ons and more time creating advanced pages in just a few clicks.
Swell's advanced built-in features are designed to help any company grow. While leading platforms like Shopify and BigCommerce have many benefits for ecommerce business owners, they don't offer powerful Subscription or DTC (Direct to Consumer) features out-of-the-box. Swell does.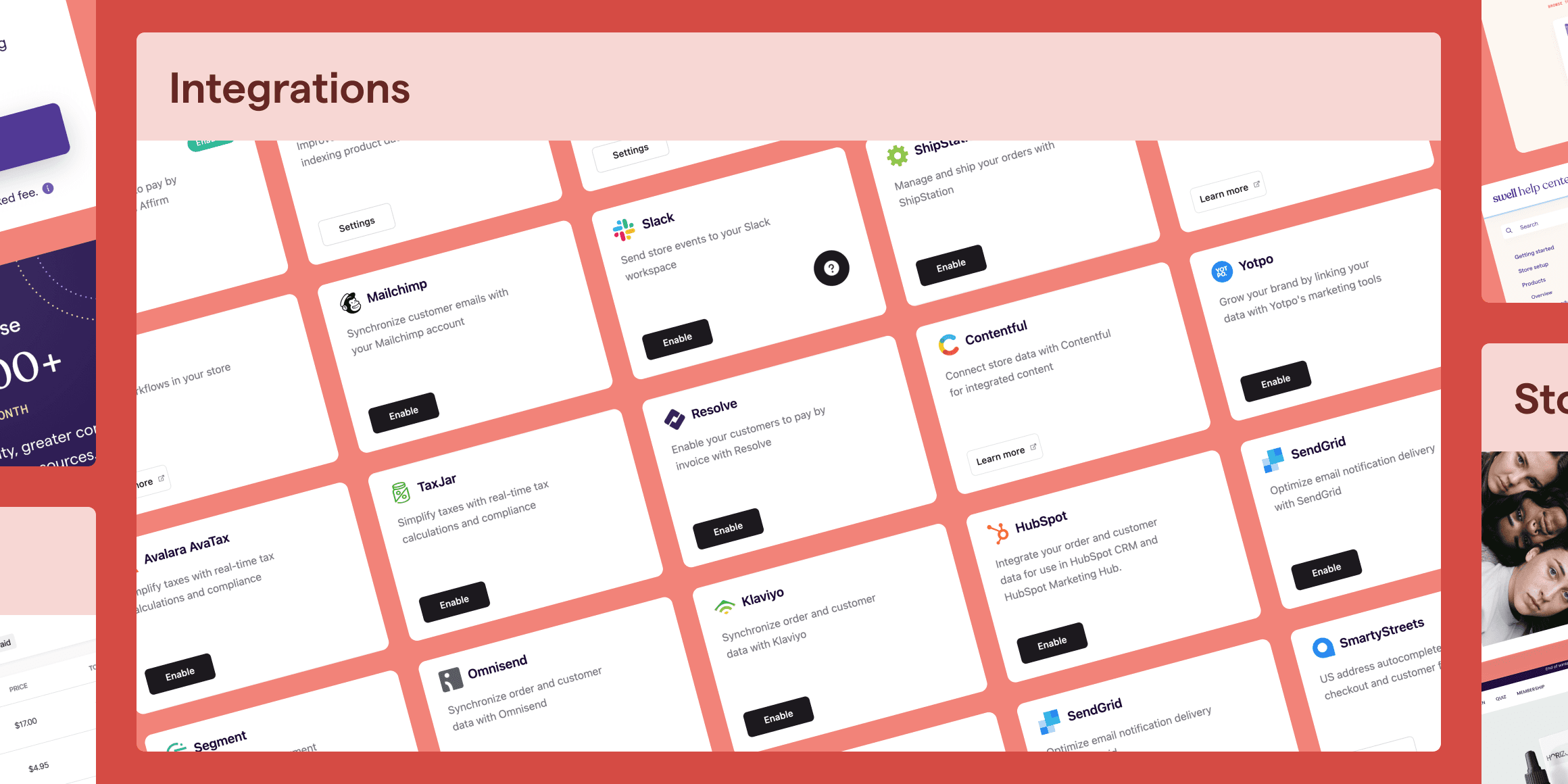 Swell offers 25+ popular tools and services to help you reach customers and optimize the buying experience.
5. Scalability
As your business grows, so should your operations — and your ecommerce platform should be no exception. But what if you've outgrown your platform's capabilities?
Replatforming, when an online brand switches from one platform to another, is expensive and time-consuming. Finding an ecommerce provider that can grow with you is vital to your long-term growth strategy.
Unlike monolithic (e.g. Wordpress) and custom (e.g. WooCommerce) platforms, headless platforms are built to scale. Using flexible API-first architecture, these platforms enable you to launch fast with integrated hosting solutions. That means you don't have to start from scratch — the "headless" technology provides an existing infrastructure for you to build or migrate any front-end storefront on, and instead of needing five developers you can do it with one.
Swell also offers easy back-end integrations that let you manage products, customers and orders through one powerful dashboard.
6. Support
Running an online business means managing a myriad of moving parts — listing products, managing inventory, coordinating shipping, store maintenance...
Finding an error while navigating through your store could result in the customer not coming back. To ensure a seamless experience every time, it's important to find an ecommerce platform that offers comprehensive support when things go wrong.
Platforms that offer multiple support routes (such as email, live chat, or social media) alongside help docs will help you to resolve issues faster.
We launched the Swell Help Center to help merchants easily troubleshoot issues and optimize their stores. Featuring comprehensive documentation alongside common FAQs, the Swell Help Center covers all aspects of store setup and maintenance, in addition to a live chat.
If you're running an expansive business operation, you may need to speak directly with a support team to resolve the issue. For our Enterprise customers, we offer a dedicated account manager with ticket responses within 24 hours, plus engineering support.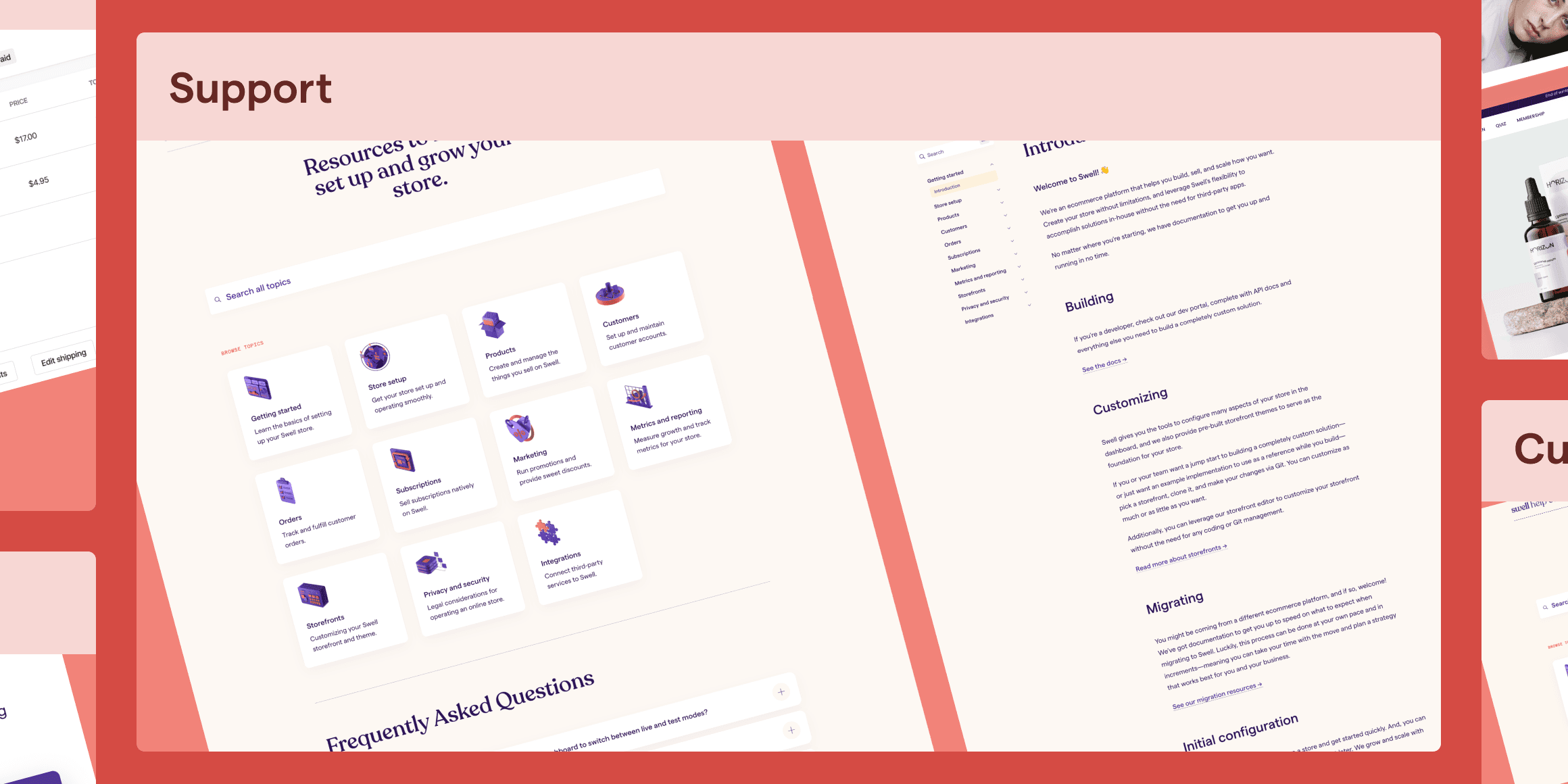 The Swell Help Center contains helpful docs for you to make the most of your store.
So why Swell?
The world of ecommerce is quickly changing. Ecommerce platforms created almost a decade ago (Shopify, BigCommerce) lack the flexibility modern brands require to build the creative shopping experiences customers desire.
Swell offers an infinitely customizable platform that lets merchants launch fast and succeed in the modern era of commerce.
Whatever your business model or shopping experience – Swell is ready to grow with you.
Try 14 days free with Swell and start building your store today. Get started here.
Join our mailing list
Get the latest from Swell,
right to your inbox