Piio joins Swell to deliver perfect image optimization
Piio, a platform specializing in image optimization and page speed solutions, joins Swell as part of our next phase of growth.
January 25, 2022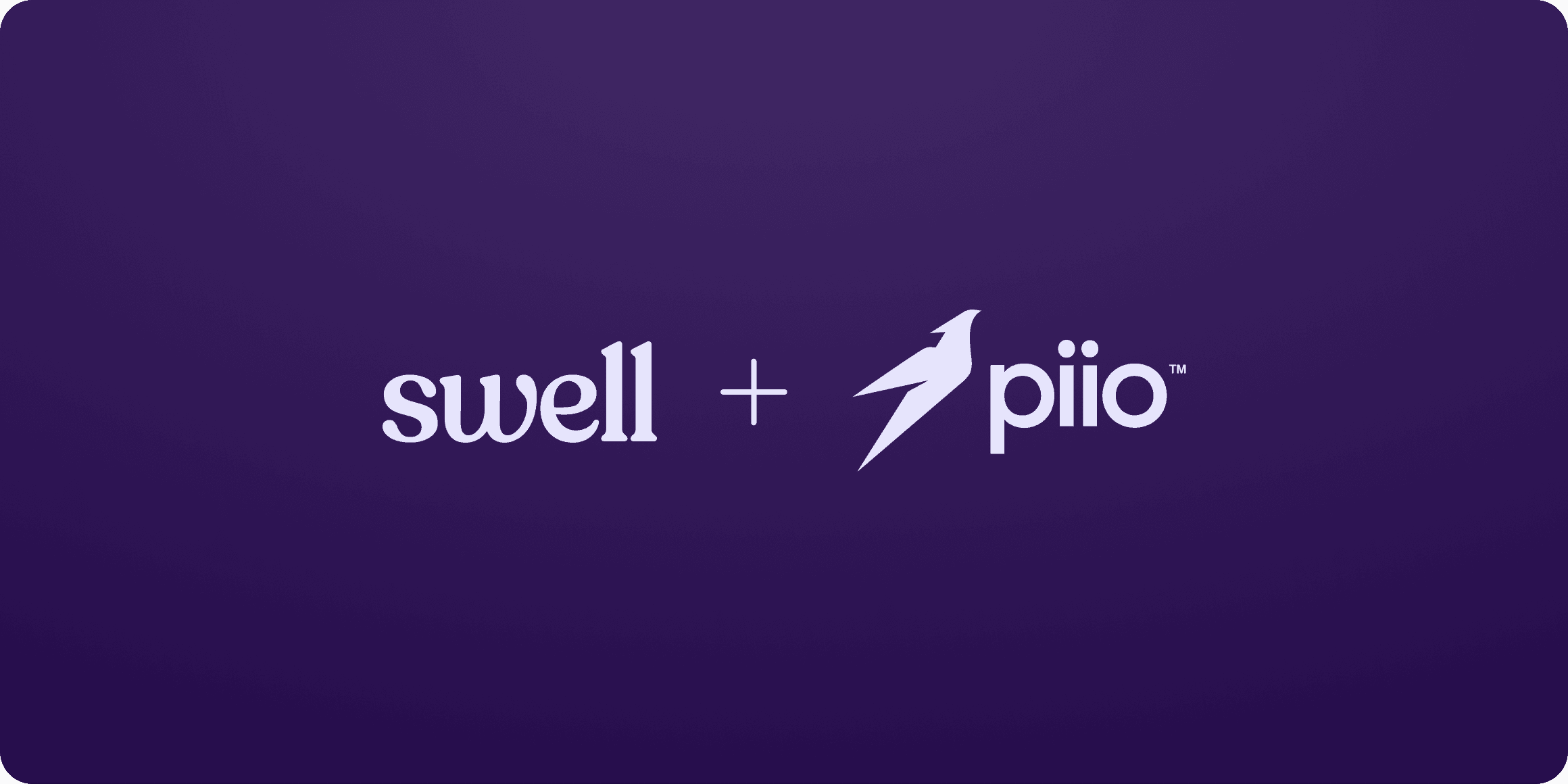 Swell has acquired Piio, a platform known for its ability to optimize images and improve page speed performance on ecommerce websites.
Piio's team of three includes CEO Nico Bistolfi (now VP of Technology at Swell), Gonzalo Rosso, Technical Account Manager, and Ismael Pisano, Infrastructure Engineer. Together with the Swell team, they will enable new and existing Swell customers to further deliver top-tier headless commerce experiences.
As headless commerce continues to grow, Swell is establishing key product differentiators and a unique way of working that sets it apart. Given the company's evolution, the Piio acquisition comes at an exciting time.
Co-founder and CEO of Swell Eric Ingram shares his thoughts with Nico Bistofli about the road to acquiring Piio, and how just one year ago Swell consisted of 5-10 employees, noting its incredible growth.
"We had bootstrapped the company for a few years before that and I think we had enough feedback from customers to know that it was working. Then we decided to raise capital and grow the team."
Both founders recognized the need for the Swell team to grow while empowering existing customers. To do this, it was clear that robust infrastructure engineering was needed to effectively scale. With the first big hiring push under its belt, the Swell team grew and currently stands at 35 employees globally.
"It's been amazing to see so many people sharing that passion to make ecommerce better," says Eric. "I saw that in Piio, Nico and his team, and we felt like we'd be a good combination."
Identifying key challenges and the technology to solve them
Eric and Nico were first acquainted when Piio published a blog post mentioning Swell.
"Seeing our work recognized by a third party generated much excitement within the team, as it demonstrated that the community was becoming more aware of our platform. We noticed alignment between both products and how relevant the connection was between both teams," says Eric.
When it comes to building tools that solve complex problems, there's a clear need for teams to be aligned on a level of meticulousness, dedication, and skill. These qualities, Eric notes, were immediately recognized within the Piio team.
Nico also highlights how Piio solves both performance and scalability. When it comes to how the Piio team integrates with Swell, there's a huge opportunity to start with image optimization capabilities — something that monolithic platforms have not yet solved and that existing Swell customers will be positively impacted by.
Piio can reduce 95% of the bandwidth with images, meaning there's a direct improvement on the user experience. Page speed correlates directly to conversion to sales, as people have more time to browse products rather than wait for a page to load.
— Nico Bistolfi, VP of Technology at Swell
Both Eric and Nico are poised to continue focusing on technological capabilities that solve real problems for users.
As Eric points out, "We started talking about performance and scaling challenges internally. I was glad to meet someone that knew the challenges of technology as well as Nico. In this day and age, it's incredibly hard to find people who you align with and who can help move the ball forward."
As time went on, both founders were astonished by the strides each company was making and noticed significant parallels. When the Swell team looked to hire an infrastructure engineering team, that's when we collectively paused and asked: what would happen if we acquired Piio?
Working together to make a difference in headless commerce
It's not often we come across individuals as keen as Piio to make a difference in the world of headless commerce. Nico and Eric's unique and aligned perspectives made it clear that Swell acquiring Piio would be empowering for each company.
Ultimately, it means we can provide the best headless commerce platform in the market.
When it comes to the working relationship we've developed, we're fortunate to work with people who are in sync on solving the same problems.
— Nico Bistolfi
Nico and his team's knowledge of ecommerce is complemented by their ability to understand the needs of each individual customer. This flows in parallel with Swell, strengthening the ability of our team when facing challenges head-on.
With both founders' ability to forecast and solve future problems for users, Eric remarks that the "possibilities feel endless".
"We're both excited about putting these two products together and what we can build on top of that. It was a growing thought for us to acquire Piio because we worked together for a while before. When we spoke about joining forces, it was clear right away to both of us that that made perfect sense."
What new and existing customers can expect
When asked how he anticipated Piio customers would react to the acquisition, Nico was optimistic. "They have even more to look forward to," he said.
"Our customers know that we're being acquired and we've invited them to share in our experience. I think it's going to be very beneficial because they already know that Piio works really well for them."
Prior to the acquisition, many Piio customers were already involved in the ecommerce space. As Eric suggests, it's the perfect time for existing customers to discover Swell and both agree it will be a great fit for users.
Together as a team, we have more resources to keep investing in what they (customers) care about and make it even better. I believe Piio customers will be excited to see the combination.
— Eric Ingram
The team looks forward to positively impacting our customer base, going as far as communicating with each customer directly, during every step of the acquisition.
Expanding the team from 5, to 30, to beyond
Swell has gone from a small but mighty team to one vastly equipped to face all technological challenges of its users. With strong infrastructure engineering at its core, Swell's global remote team is revolutionizing the way people sell online.
Both Nico and Eric feel fortunate to have strong foundational team members who understand the challenges that lay ahead and how to solve them. Nico points out that the acquisition has been an exciting time for himself, Gonzalo, and Ismael, given their existing relationships with Swell engineers and account managers.
We had already worked with Eric and the rest of the team and that was a big deciding factor.
— Nico Bistolfi
Swell eyes future plans to expand
As Swell continues to grow its global remote team, it will focus on solving big challenges with flexibility on the back end — a gap in the market that Eric has spotted.
"We want to give people more control over how they sell online, and how fast they can move as a business."
He elaborates on the necessities of building complex technologies that answer the needs of Swell's expanding customer base.
"Moving through these foundational layers, there's a strong need to maintain a high level of performance-optimized page loads and image speeds because we know through studies (and intuitively) that website performance impacts the customer experience in a huge way."
Swell's team has continuously been conscious about performance and its effect on user behavior, something Nico, Gonzalo, and Ismael will massively contribute towards. We've also put a lot of work into back-end performance, but there's a whole set of considerations for the front end, too. This is where both Eric and Nico identify an exciting area of web technology expansion.
There's a lot going on with standards like core web vitals and tools like CloudFlare, Next.js and other frameworks that make it easier to get great website performance with less effort. We see an opportunity to support and invest in that area and make it easy to start with great performance from the beginning. We want to make that the default choice for everyone.
— Eric Ingram
Both founders note that their shared vision means there's much left to discover. Eric emphasizes the importance of looking ahead after integrating Piio into Swell.
"We keep improving across the board. I think I'm most excited about the ideas that we haven't come up with yet. Nico is very creative and when we start talking about what we could do, it goes in a really exciting direction."
Ecommerce has drastically evolved over the last decade, but it's clear to Eric and Nico that we've only just scratched the surface. Looking to the future of headless commerce, nothing seems too small or complex for Swell.
There's so much that's going to happen in the next decade, a lot of ecommerce will look completely different. Swell is a platform that exists to help people adapt to those changes. The more people we find that share that vision, the better.
— Eric Ingram
"It's amazing to increase and create technology that enables people to build things easier, faster," Nico agrees.
"One of the things that Eric and I discuss is the moment that you start to realize how powerful your platform is and when people build things that you never imagined that they could build with your platform."
Swell is hiring! Check out our available jobs
Join our mailing list
Get the latest from Swell,
right to your inbox