Presenting Swell at Netlify Headless Commerce Summit 2021
During the spring of 2021 Swell hosted a live lounge at Netlify's Headless Commerce Summit. In this post, we recap our experience demoing awesome new features such as out-of-the-box tools, a two-sided marketplace, and our custom model editor.
July 27, 2021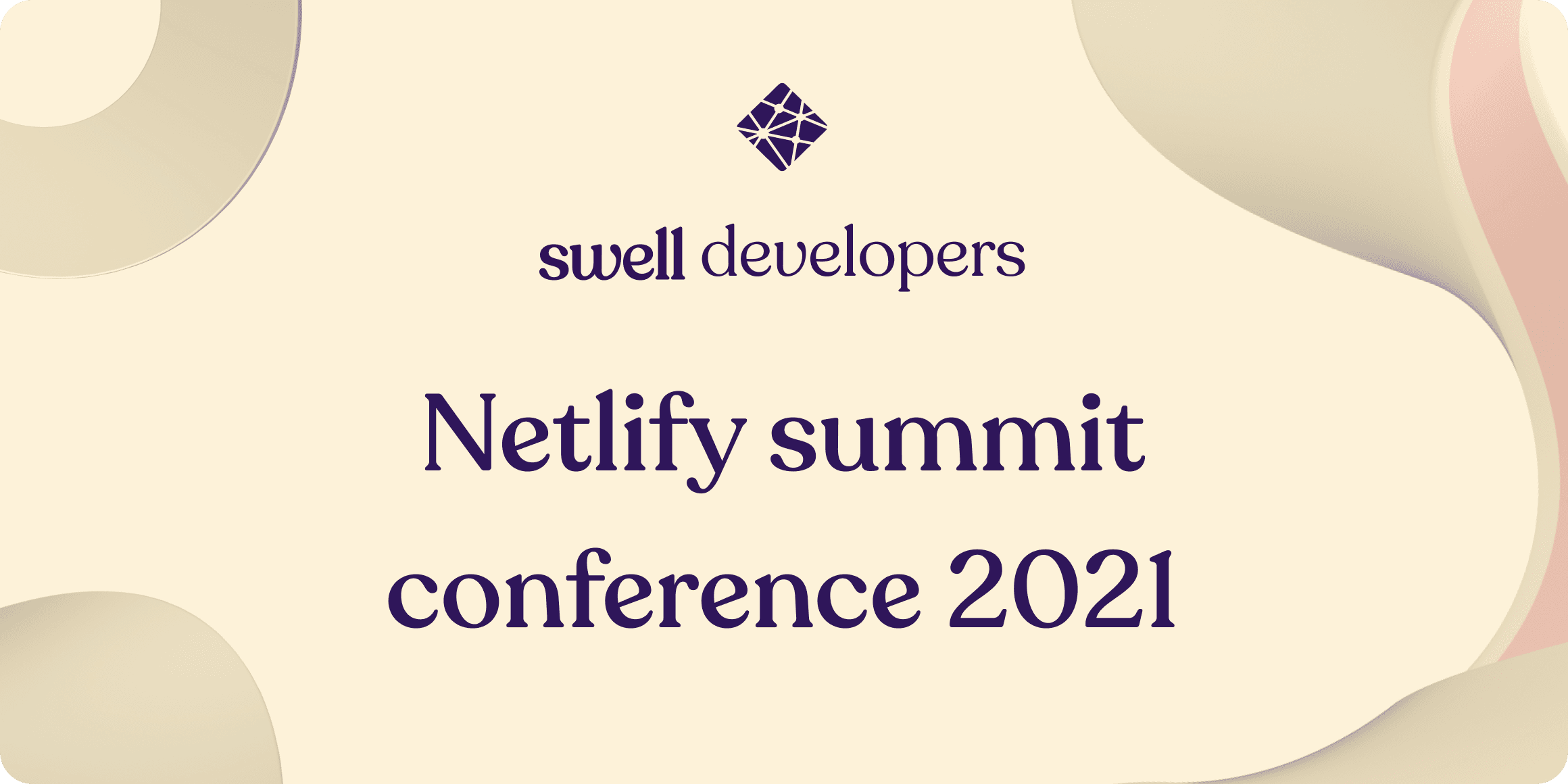 About Netlify Headless Commerce Summit
Netlify's Headless Commerce Summit is aimed to expand the knowledge of technologists, key decision-makers, agency partners, and ecommerce experts. This two-day event engages the community to discover new ways to stand out from their competitors.
As a sponsor and contributor, Swell hosted a live lounge and was featured on Netlify's attendee perks page. During our presentation, our team expanded on what makes Swell a leader in the space.
Swell's out of the box tools
Dave Loneragan, Co-Founder of Swell, kicked off our Live Lounge by providing an overview of how Swell's API-first ecommerce platform is re-shaping the way users think about headless commerce.
He observed that decoupling the front and backend only scratches the surface of what's possible with the architecture. While enabling infinite customizability, headless doesn't have to mean building from scratch or stitching together a pile of apps and services. Out-of-the-box tools can be provided while allowing the same level of flexibility.

Recollecting the history of Swell, Dave pointed out that Swellians have come from all corners of the ecommerce space, from running stores to developing apps for clients. However, at some point, most users experienced frustration with the limitations of existing platforms. Inflexible backends, hacky workarounds for what-should-have-been common tasks, and a need to build custom solutions from scratch seemed to be the norm.
Swell was built to bridge the gap between the ease-of-use of a SaaS platform and the power of a fully customizable solution. This allowed the support of unconventional shopping experiences and flows like marketplaces and subscriptions. Native support was added for many common workflows, like price rules, subscriptions, and unlimited variants, all within a highly customizable dashboard.

Turning back to JAMstack, Dave noted the ease of deployment of Swell storefronts onto Netlify, writing serverless functions with swell-node (the open-source backend library) and the full suite of webhooks provided by Swell.
Finally, Dave revealed some future development planned around a storefront app marketplace, purchase options, multiple markets, and an open-source checkout. These are all intended to support unique business models with native, turnkey solutions.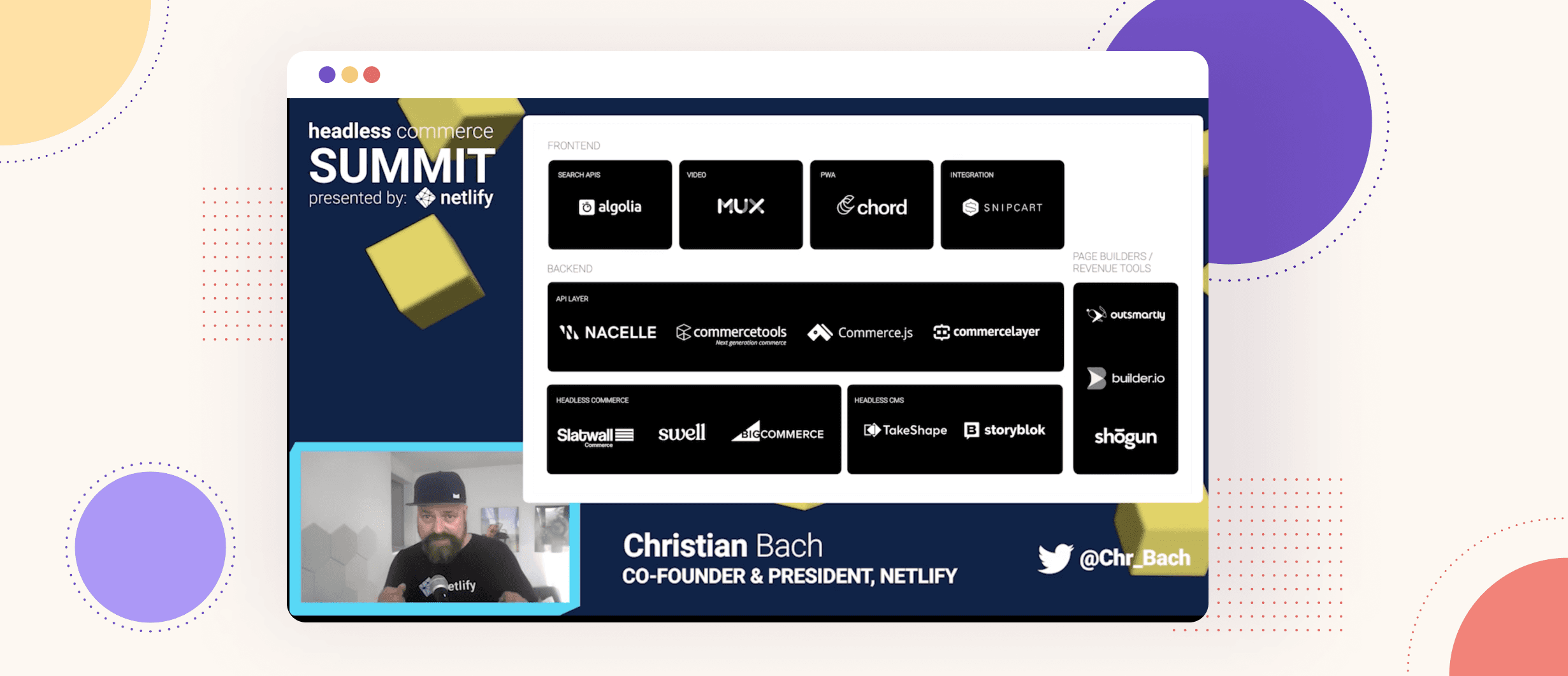 Christian Bach, co-founder at netlify, featuring Swell as one of their official partners.
Two-sided marketplace
Next Alex Sagel, Technical Account Manager at Swell, demonstrated how a full two-sided marketplace could be built. He used a mock coffee store as an example. By simply defining buyer and seller customer groups and configuring vendor fields within the Swell dashboard, a single backend could support both B2B and B2C storefronts.
Bonus: audience members were given a first look at the new custom model explorer UI to gain additional insights into the data model.
Read more about custom models →
A look at Swell's custom model editor
To wrap up the session, Greg Hoskin, Solutions Engineer at Swell demonstrated the new custom model editor. This allows customers to create entirely new building blocks within their ecommerce backend, consumable via API across any client. Continuing with the coffee company example, a coffee preference quiz was devised, which presented insights into customers' coffee preferences.
The new model auto-generated a serviceable endpoint, with fields linked to customers' accounts and their quiz responses. This example revealed that data models of any type could be added to the Swell ecommerce backend, and help employ a truly headless solution to future-proof any business.
We hope you enjoyed getting caught up on the Netlify Headless Commerce Summit and encourage you to check out our product demo showcasing Swell's new custom models and fields feature.
See the full demo below.
Join our mailing list
Get the latest from Swell,
right to your inbox