Why HALO is the next step for composable commerce
Composable is setting a new standard for headless ecommerce—but for small-to-medium businesses, it can remain just out of reach due to complexity and costs. We explore a new concept that can lower the barrier to make headless for everyone.
July 26, 2022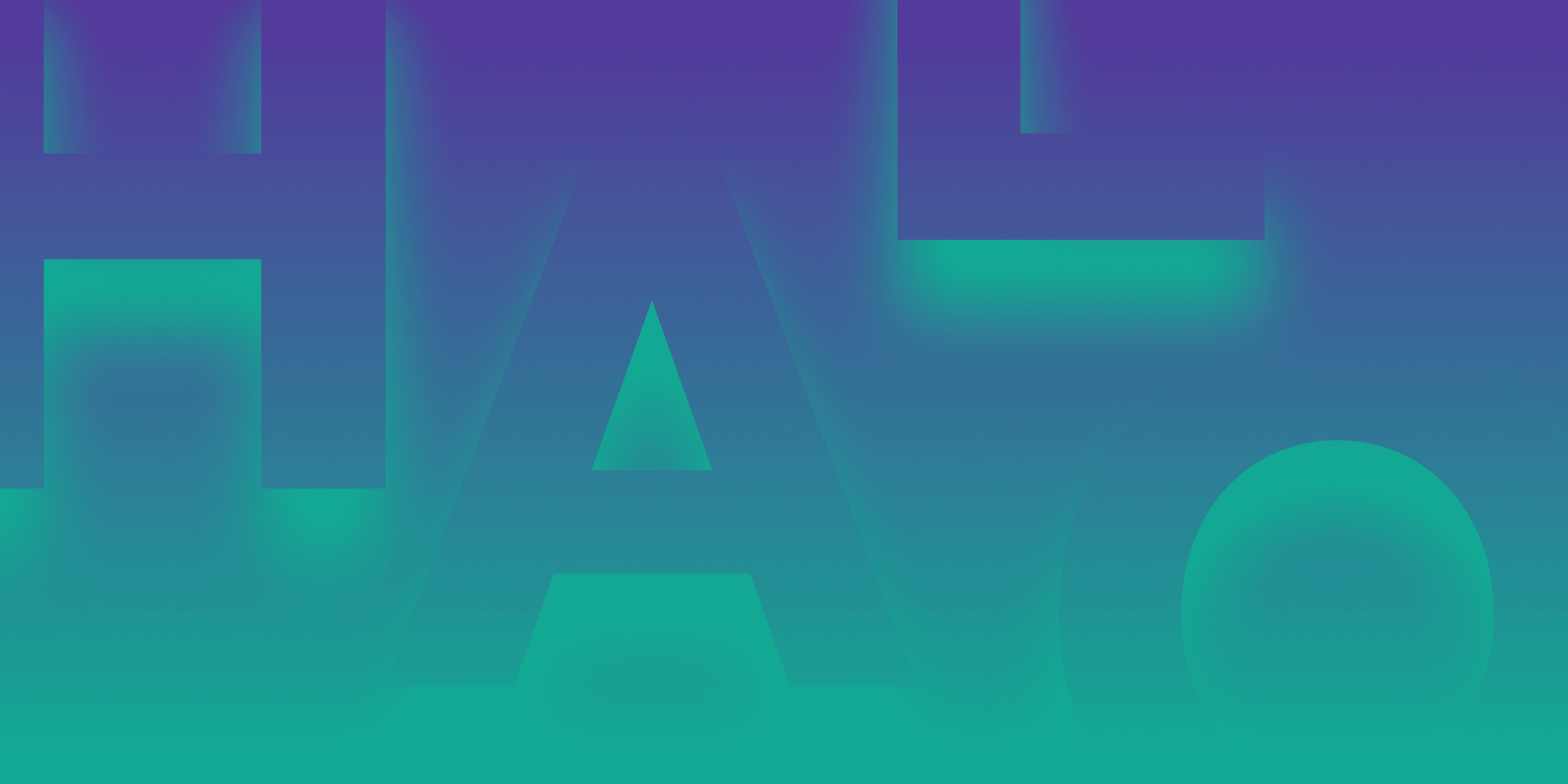 In today's competitive ecommerce landscape, an innovative shopping experience can set your brand apart from competitors and help you win customers and increase revenue. Headless ecommerce offers the flexibility needed to craft any shopping experience you can imagine.
Going headless means you aren't tied to one particular frontend technology and can adapt to changing market needs with unlimited flexibility and customization. With a platform like Swell, you can move fast with a single source of truth for all your products, customers, orders and more.
Like the best practices before it (Jamstack, MACH) Composable is the buzzword of the moment in headless. Composable commerce takes cloud-native platforms and packages best-of-breed microservices together to create power customer experiences, achieving this through Packaged Business Capabilitites (PBCs). We'll get into more this futher along.
We're on the right path to bringing headless to the maintream. But some are still hesitant to make the jump to headless. Why?
What are the current barriers to headless?
Many headless options are designed for an enterprise audience and lack transparency around pricing and processes. This can rule out mid-market merchants looking for a powerful solution who don't have deep pockets.
The replatforming process often looks something like this for growing brands.
You want to offer unique and innovative customer experiences, but can't due to current platform limitations.
To solve this, you consider building custom but soon realize the complexity and expense of doing so.
Next, you might consider a headless ecommerce platform to solve the above frustration. But as you consider the headless options out there, you might find that many don't exactly suit your needs as they are:

Complicated
Extensive
Developer-centric
Aimed at enterprise-level businesses
The core objective everyone has with a headless commerce platform is agility. But most of the time, this comes with a steep cost that isn't far from a fully customized solution.
Eric Ingram, CEO of Swell.
However, there have been efforts in recent years to bring headless mainstream.
MACH, Composable… what does it all mean?
You'll have seen the term 'MACH' and 'composable' thrown around a lot, from blogs to the main stage at conferences. So why have they got the headless industry so hyped?
What is MACH?
MACH takes cloud-native ecommerce platforms and packages best-of-breed microservices together to create power customer experiences, following these principles:
Microservices-first
API-first
Cloud-native SaaS
Headless
What is Composable?
Composable is a more easily understood term for non-technical business owners, but the principles are much the same as MACH.
A composable approach takes it a step further by packaging microservices to solve business problems through Packaged Business Capabilities (PBCs), which you can learn more about from Mike Lowndes, who coined the term.
The benefits of both these approaches include:
Unlimited flexibility and scalability
Out-of-the-box agility
No vendor lock-in
Business and technology harmony
The right level of abstraction
Rapid integration
They're great starts, but the ecosystem challenge remains unresolved
Both MACH and Composable are strong starting points for headless.
However, they fall short on solving the ecosystem challenge in making headless accessible for everyone to fully "cross the chasm."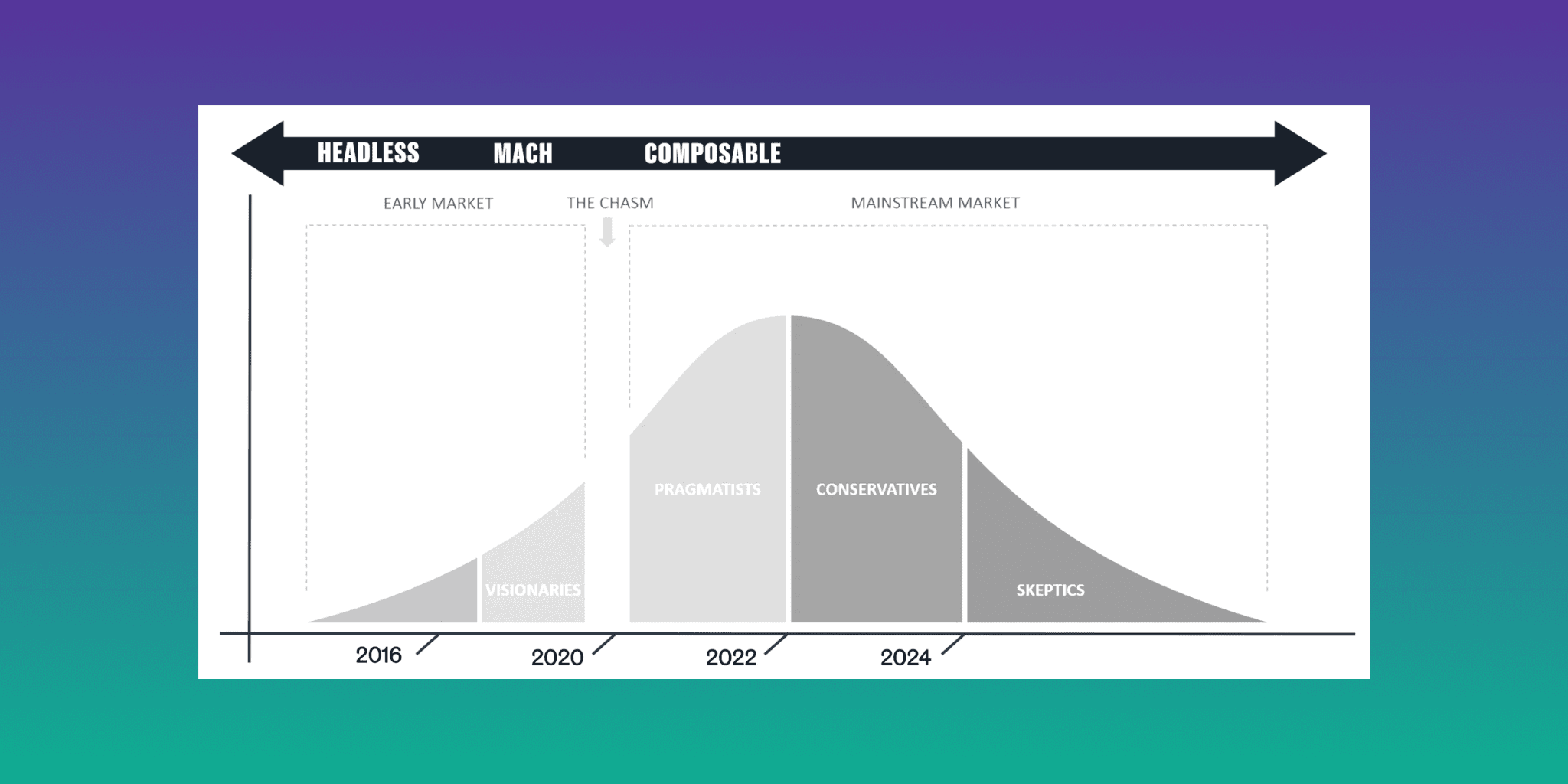 Credit: Adam Sturrock's article on the HALO concept
The problem with Composable as a term is that Packaged Business Capabilities (PBCs) remove the "size-ism" of microservices, leaving room for legacy vendors to claim that they are composable so long as they've slapped some APIs onto their now Frankenstein-like product, it gives monoliths a way to market-wash and confuse customers even further.
Adam Sturrock, VP of Product Marketing at Amplience
Let's say you're an SME looking to replatform to something more powerful and scalable for your brand. You're looking towards MACH and Composable architectures for all the great flexibility and power they bring. But too fully reap the benefits of these approaches, you'd need:
Development teams to implement whole solutions from multiple vendor services, ruling out those that don't have strong technical teams
A willingness to handle multiple complex sales processes and vendor relationships that  makes the overall Total Cost of Ownership hard to determine
Enterprise saturation to drive growth, which makes it harder for small and mid-market businesses to stake their claim in the space
To give mid-market businesses the keys to headless, we need to look beyond long enterprise sales processes and complex integrations. But how?
HALO: Headless, Agile, Low-Code and Open
Everyone deserves a flexible ecommerce platform that works with their business, not against it. At Swell, we created a platform that reduces the typical complexity and cost of going headless.
That's why we're so excited about a new term that encompasses everything we strive for: it's called HALO, coined by headless pioneer Adam Sturrock.
This new approach takes into account a few key things that the non-enterprise end of the market require: a self-serve product with transparent pricing, and the ability to launch a brand initially without a developer.
HALO encompasses the principles by which we build: Headless, Agile, Low-Code, and Open. Let's jump into these concepts further.
Headless
A nod to the headless approach (decoupling the frontend from the backend) as well as best practices from recent years (Headless, Jamstack, MACH and Composable).
Agile
Tools that proactively encourage Agile methodologies and best practices, enabling users to move faster across facets of the business and become more customer-centric (architecture, vendors, product, people and process).
Low-code
What if you could have the best of both worlds – the flexibility of MACH/Composable and the speed of SaaS?
With a low-code platform, you resolve the developer bottlenecks and empower non-technical business owners with a drag and drop UI. This means a headless platform can, for the first time, strike a harmony between the developers and marketing/editors (rather than one or the other.)
Open
To succeed in the mid-market, an open approach that lets a company self-serve is essential. This is because "SMBs typically do not engage with lengthy enterprise buying processes and it is not viable for vendors," says Adam Sturrock.
This means the platform is decentralized (meaning, businesses can choose to rent and integrate functionalities from vendors into their stack) and transparent (being upfront about TCO and having a pricing model that is easily understood) to build trust between multiple vendors and the customer.
"There is a fine line that platforms tread as they grow and they can sometimes lose sight of "a rising tide raises all boats" and begin to compete with their own ecosystem," says Adam Sturrock.
How HALO can revolutionize the industry
These four principles – Headless, Agile, Low-code and Open – align with where the market is heading and lower the barrier to headless to make it accessible for everyone.
This means small and mid-market businesses can too leverage the power of headless, with clear oversight of costs (previously a sticking point) and the autonomy to self-serve to make changes faster.
"This is about lowering the barrier to entry, not just from a technical standpoint, but also for a business to easily buy services and implement them rapidly," says Adam Sturrock.
A platform that adopts these ideas is going to be naturally accessible and develop a larger ecosystem, which are the main benefits found in monolithic platforms that people don't want to lose when moving to a more flexible approach.
Eric Ingram, CEO of Swell
How Swell is making headless for everyone
Swell started as an API that was solely focused on the developer audience, founded by Eric, an entrepreneur who experienced first-hand the challenges with launching an ecommerce business from the ground-up.
Today, we're building Swell as an ecommerce platform that is accessible and solves real problems that merchants face today, regardless of their size or how technical their team is.
The solution: Subscriptions-built-in
Subscriptions sky-rocketed when the pandemic hit with no signs of slowing down. Yet despite subscription services growing in popularity, many platforms don't offer them built-in. This forces merchants to turn to third-party apps which can be expensive and cumbersome.
How Swell is solving this: Swell offers subscriptions built-in, meaning you sell any digital or physical product from your catalog as a subscription from the start on multiple plans. Managed through one intuitive dashboard, Swell subscriptions let you:
Set pricing for one-time orders and subscriptions together
Define plans with custom intervals and separate schedules for billing and fulfillment
Create and edit subscriptions, invoices and others
Set up quizzes to find out exactly what your customers want
Offer a range of membership tiers and packages to provide value at every price point
You can learn more about how to leverage subscriptions with our playbook.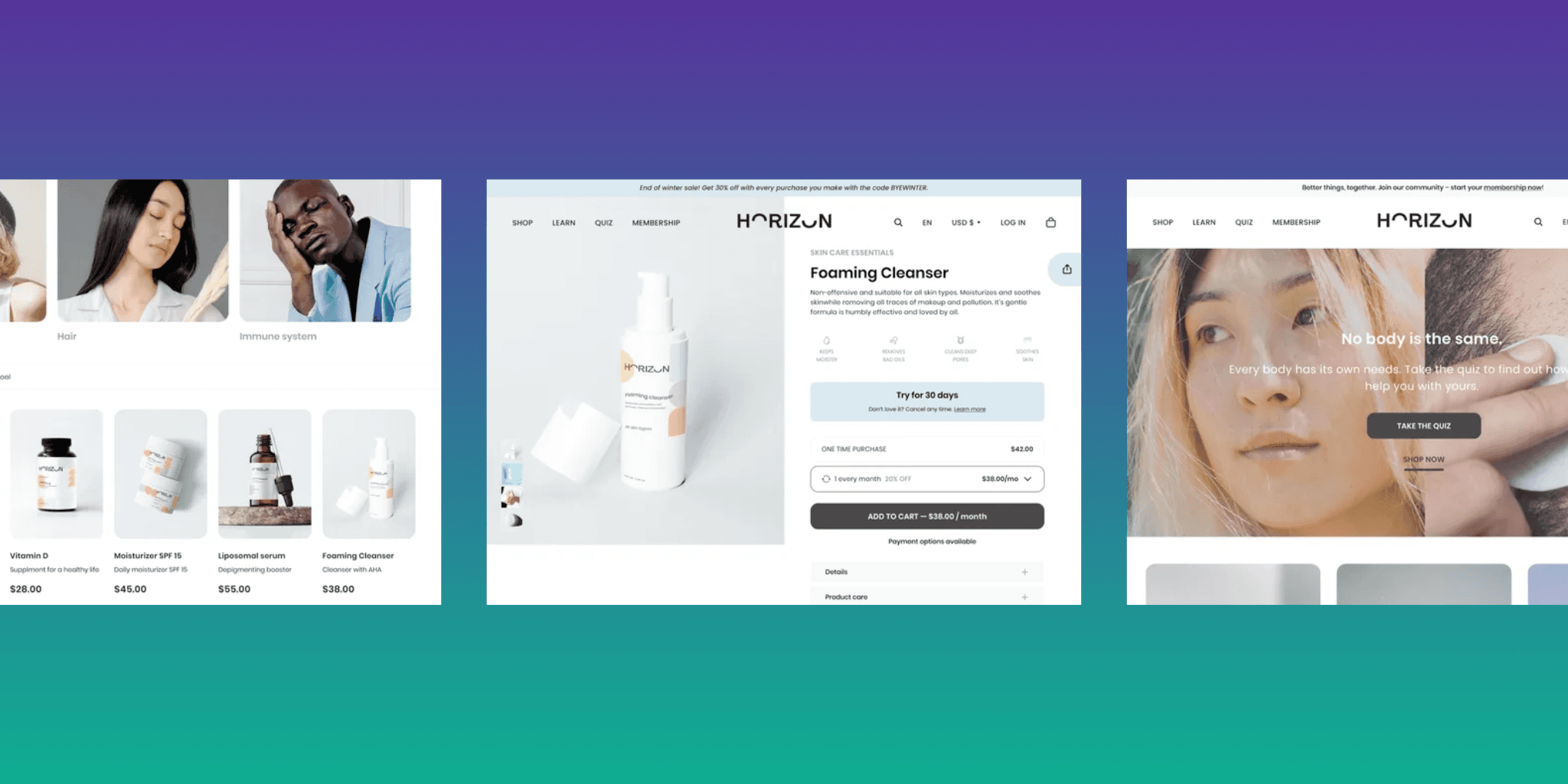 Sell Subscriptions with Swell's upcoming storefront theme, Horizon
The solution: Manage multiple stores from one backend
As your business grows, you may find yourself launching new websites or needing multiple environments for testing, staging and live development efforts. With traditional ecommerce platforms, managing more complex businesses with these kinds of needs can be a headache.
How Swell is solving this: Customers on Swell will soon be able to create and manage multiple stores, each with their own test and live environments, from one backend. With an Environment and Store switcher available in the dashboard, merchants will be able to easily switch between websites while synchronizing records between multiple databases.
The solution: Making headless a good fit for SMBs
In its current form, headless can be overkill for simple businesses. But with a HALO approach, it can be adopted into the mainstream and set a new standard for ecommerce platforms.
How Swell is solving this: With Swell's Community plan, you have everything you need to launch and grow a new online store without needing significant upfront costs and developers. Create your store and only pay when you start selling, or choose a plan later.
Deliver modern, immersive experiences at scale
With API-first architecture and customizable data models, Swell gives you full control of the customer experience with faster time to market and lower costs than custom.
Whatever your groundbreaking idea, you can build it on Swell. Learn more.
Join our mailing list
Get the latest from Swell,
right to your inbox