Blog
/

Add crypto payment integrations to your ecommerce store
Add crypto payment integrations to your ecommerce store
Cryptocurrency payment gateways enable merchants to accept payment in popular cryptocurrencies. Implementing a crypto payment integration is easy with Swell and Rally.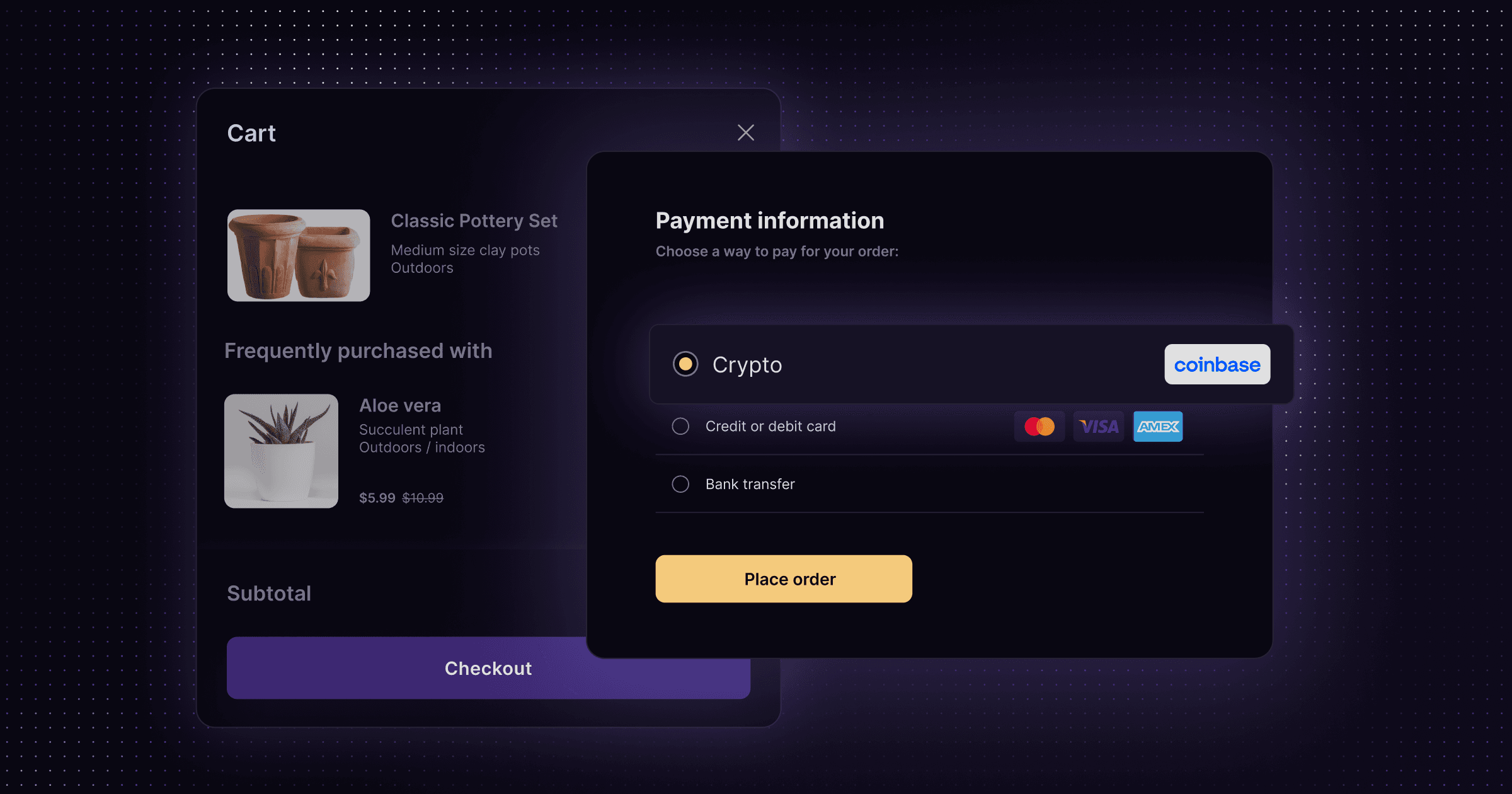 As the retail landscape evolves, the demand for flexible payment options continues to rise. Customers are searching for seamless and secure buying experiences, while merchants are looking for solutions that increase sales and build trust.
Cryptocurrencies are increasingly popular as a solution to capture this rising demand. Crypto payment integrations, like Rally's new partnership with Coinbase, provide merchants with another tool to streamline the checkout process and provide customers with a reliable and safe method to purchase products or services.
Cryptocurrency payment gateways enable merchants to accept payment in Bitcoin, Ethereum, and other popular cryptocurrencies, to take advantage of the blockchain's unique features, and to accept payments from a wider range of customers. Implementing a crypto checkout is easy with Swell and Rally.
How to add a crypto payment integration to your Swell store
Adding a crypto payment integration is easy now that Rally has partnered with Coinbase, one of the leading platforms for buying, selling, transferring, and storing cryptocurrency.
No development work is required to use Coinbase with Rally on your Swell store. Once the Rally integration is installed, all you need is a Coinbase business account, which is then connected to the Rally admin. From there, the crypto payment option can be toggled on or off.
Follow these steps to get up and running:
Step 0: If you don't already have Rally checkout installed, follow this link to get started.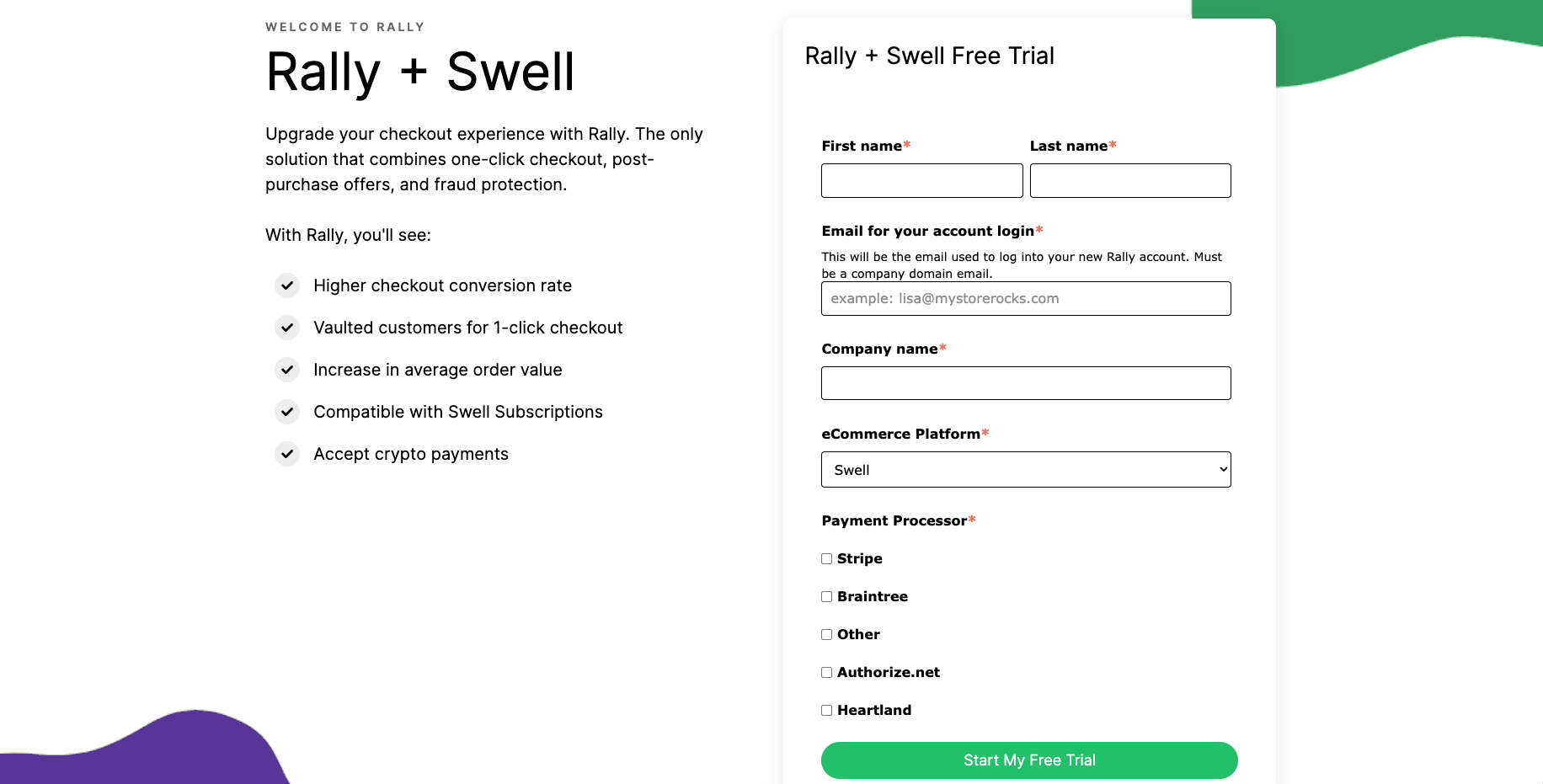 Step 1: Once you have installed the Rally checkout, navigate to the extension tab and select Coinbase.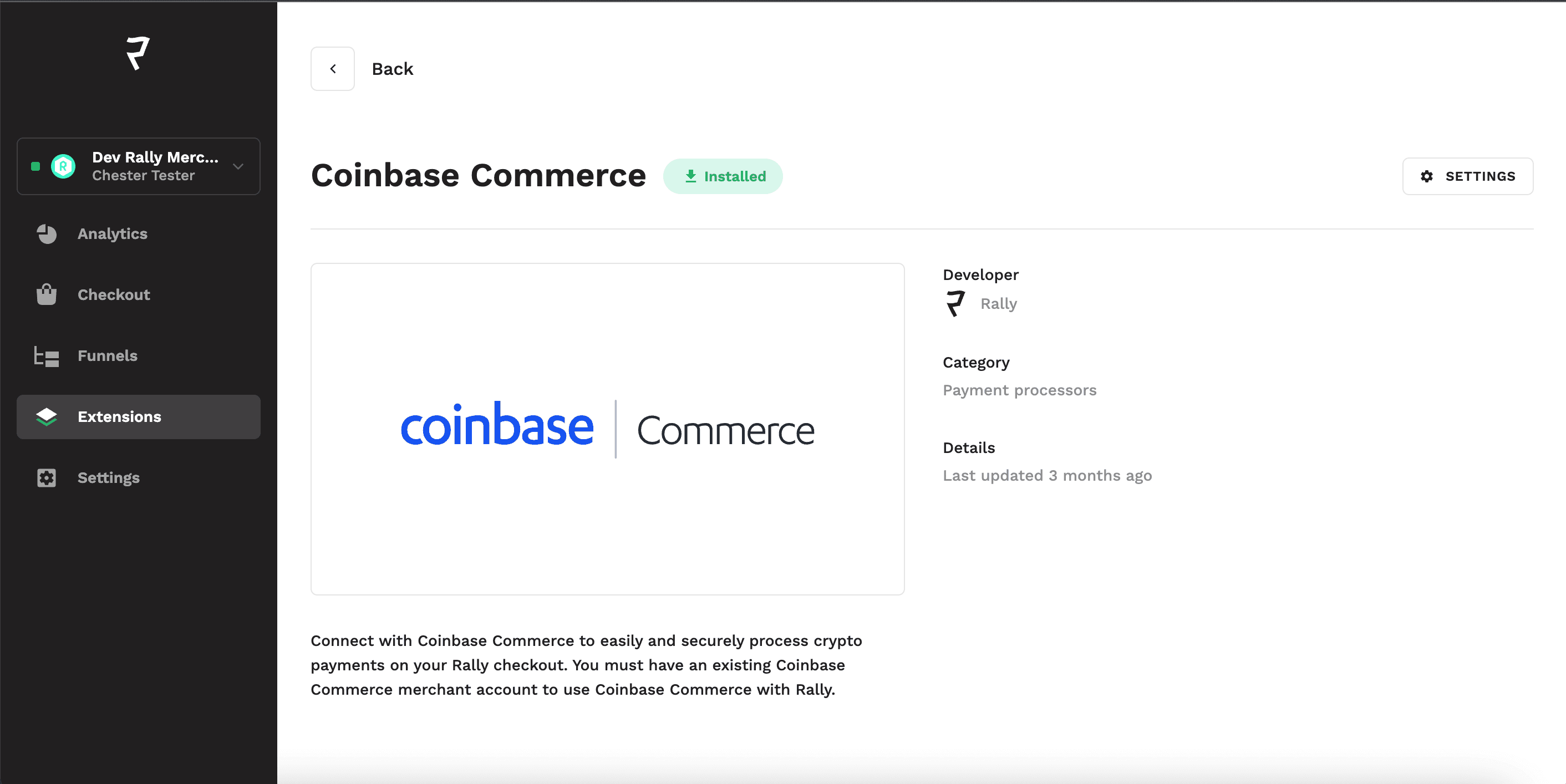 Step 2: Follow the prompts to connect your Coinbase account to your newly enhanced checkout.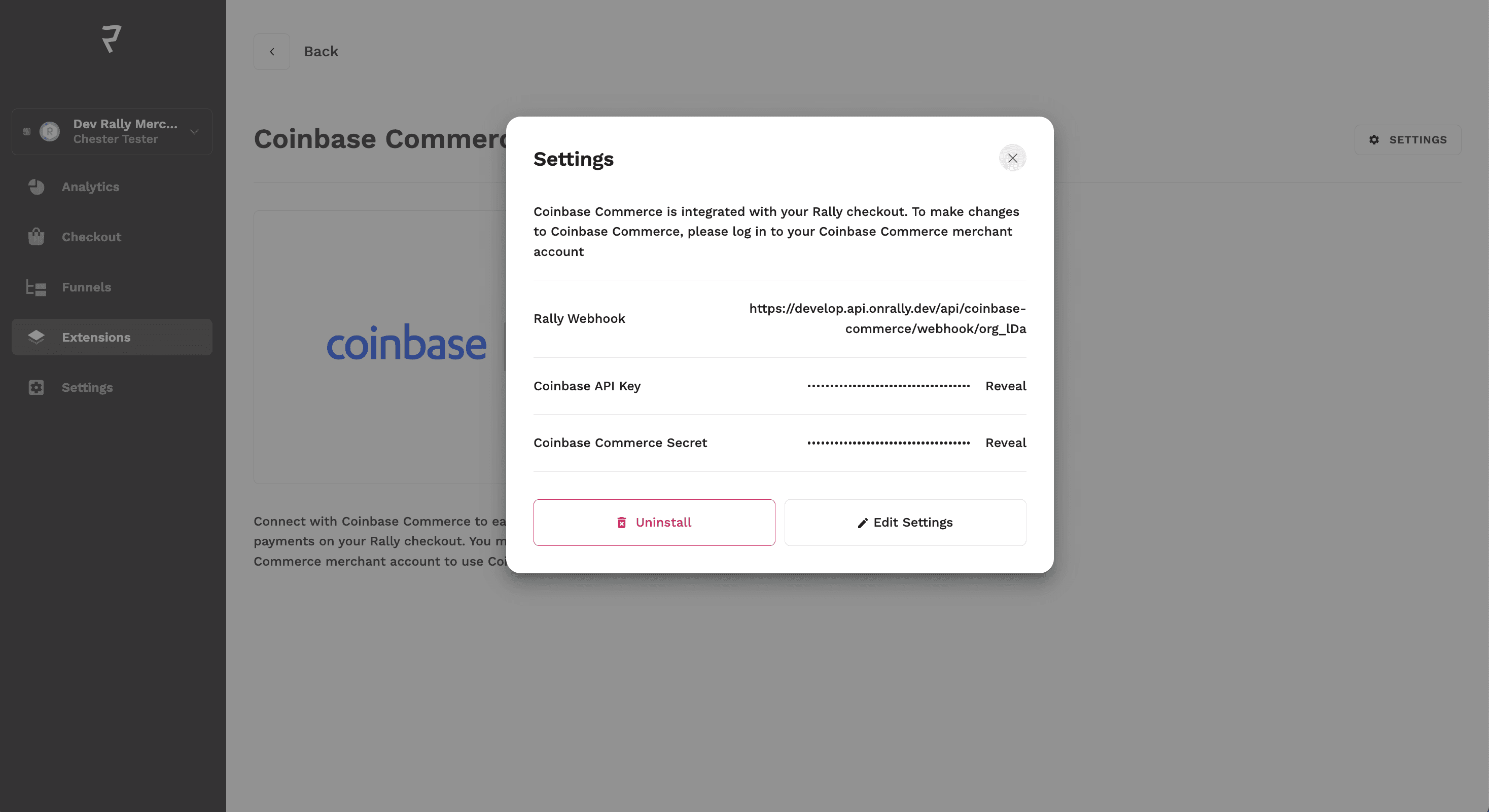 Step 3: Toggle on the Coinbase option so your customers can see it's available during checkout.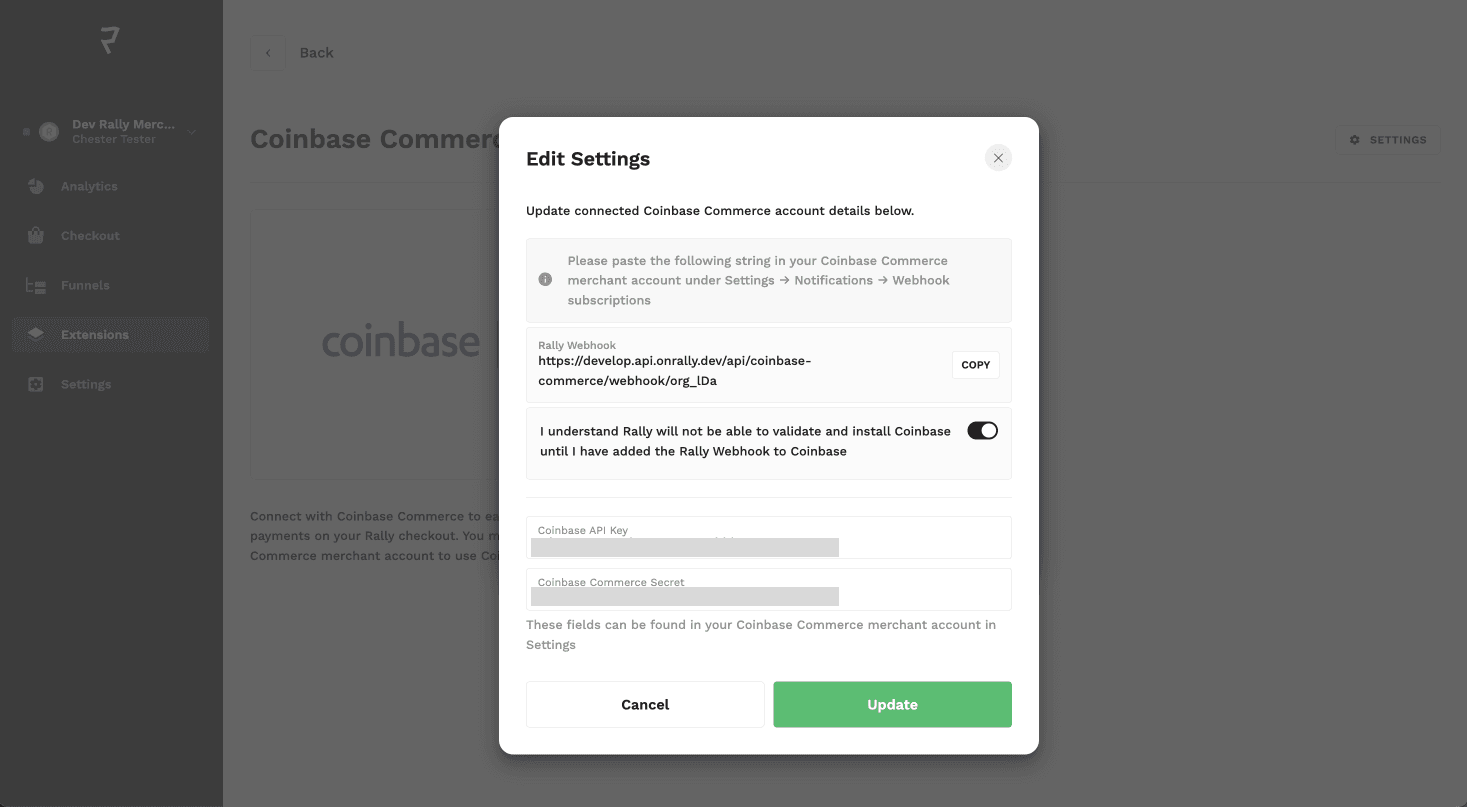 It's that quick and simple. The way headless checkouts should be.
If you're interested in learning more about integrating cryptocurrency payments into your business beyond Rally's integration, check out Coinbase's Commerce API documentation.
Benefits of accepting Crypto payments
Increase reach and accessibility
Nearly 75% of retailers plan to accept either cryptocurrency or stablecoin payments within the next two years, according to research from Deloitte. By offering crypto as a payment option, you can reach and attract new customers who prefer this payment method or don't have access to traditional banking services.
Lower Transaction Fees
One of the biggest advantages of accepting crypto payments is that transaction fees are much lower than credit card processing fees. While credit processors typically charge between 2%-3%, crypto will typically be lower, around 1%, on your transactions.
Faster Transactions
Credit card transactions can take days or even weeks to deposit funds into your account. With crypto payments, transactions are nearly instant, meaning your earnings are available significantly faster so that you can keep building your business.
FAQs about accepting crypto on your Swell store
What cryptocurrencies can I accept with the Rally + Swell checkout?
Since the Rally checkout allows you to connect a Coinbase commerce account, which will allow you to accept crypto transactions, you can take in any of the cryptocurrencies supported by Coinbase Commerce. Make sure to check their website for any changes to this list below.

ApeCoin
Bitcoin
Bitcoin Cash
DAI
Dogecoin
Ethereum
Litecoin
SHIBA INU
Tether
USD Coin
MATIC
WETH on Polygon

How long does it take to implement the Rally checkout with Coinbase on my Swell store?
This depends on your tech stack and how fast you and your team want to move. Rally can help you install the new checkout and go live with Coinbase in as little as 24 hours.
Do I withdraw my crypto through Rally or through Coinbase?
You will withdraw your crypto through the Coinbase account that you connect your Rally checkout through.
What if I need to refund a crypto transaction?
These refunds will be done in the merchant dashboard on your Coinbase account. For more details on this process, please visit their help article.
How should I price products in cryptocurrency?
Cryptocurrency can be volatile, so it's essential to anticipate and respond to market changes. Start by researching historical trends for your chosen digital currency, then define your ideal buying and selling points depending on demand. Additionally, partnerships with a reputable cryptocurrency exchange (like Coinbase) allow you to access both current and prospective market prices and offer recommendations to hedge currency volatility.
Join our mailing list
Get the latest from Swell,
right to your inbox