Paypal Commerce Platform integration
Introducing the new PayPal integration, with new features such as PayPal Pay Later, Venmo, and an improved checkout experience—entirely free and easy to set up with your store.
August 14, 2023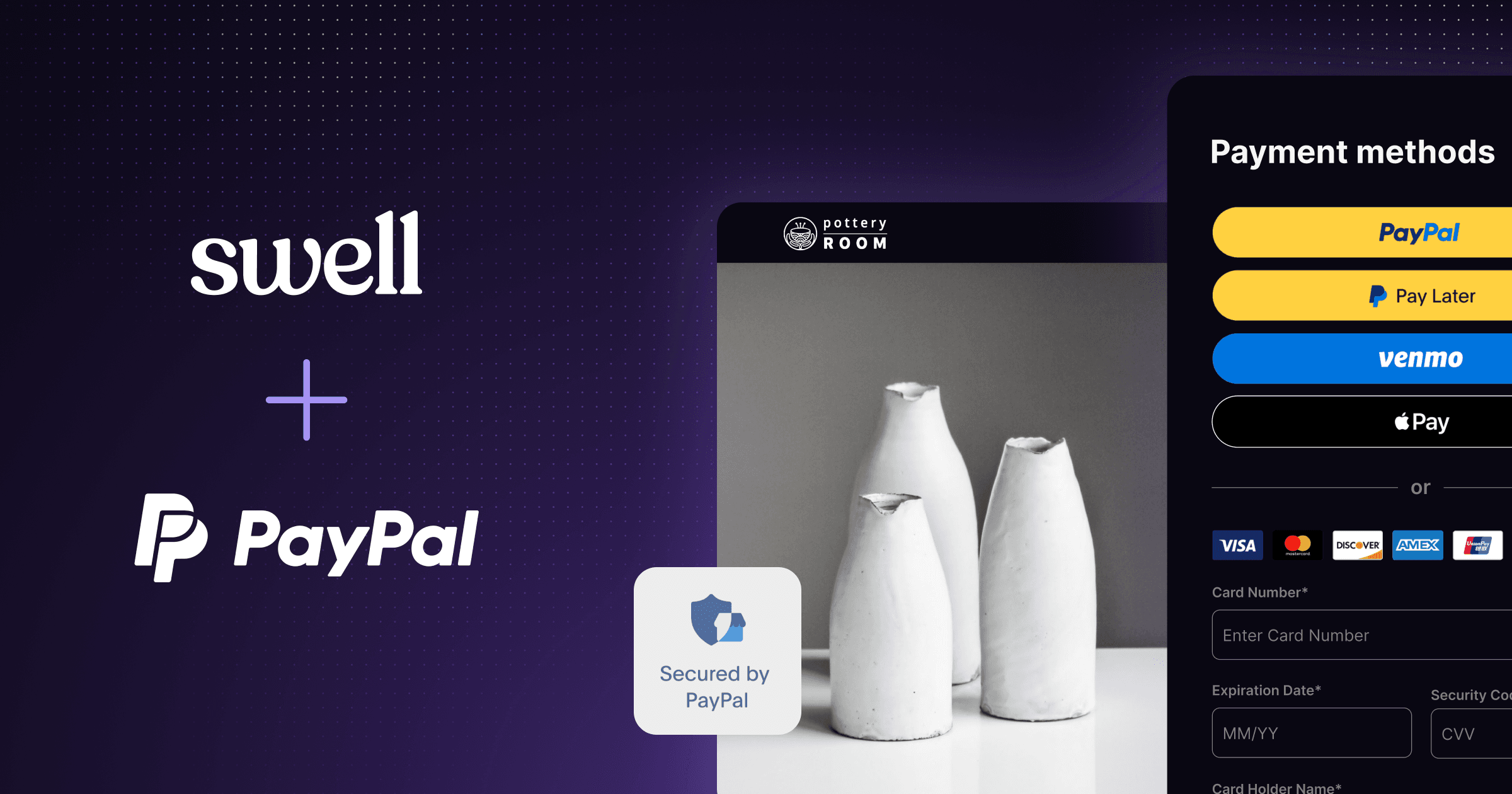 Introduction to PayPal Commerce Platform
PayPal Commerce Platform (PPCP) is PayPal's new solution designed to elevate online business by providing advanced features that go beyond what PayPal Express offers.
It's an end-to-end payments platform with global scale and flexibility to suit various business models that integrate seamlessly with Swell. It provides a unified global solution for accepting and making payments and managing risk with a streamlined technology stack. Learn more at PayPal.com.
Swell integration
At Swell, we are committed to continuously improving our platform and bringing you the best tools to succeed in the ever-evolving e-commerce landscape.
While PayPal Express provided a range of features such as a streamlined checkout, speedy transitions and security, PayPal Commerce represents a big step ahead, introducing fresh payment options and enhancing the checkout experience for merchants to increase sales and tap into new customer segments. Additionally, it supports Pay Later choices and enables the use of Venmo as a payment gateway.
PayPal Commerce can be set up in just a few minutes on your Swell store. Plus, it can complement existing checkout solutions and payment methods you already offer. You can take advantage of these advanced features at no additional cost.
Benefits of the new PayPal Commerce
Subscription payments
PayPal supports subscriptions within the PayPal checkout process, no longer requiring an additional Braintree integration.
PayPal Pay Later at no additional cost
Give your customers the freedom to divide the total cost of their purchase into smaller, more manageable payments. With Pay in 4 and Pay Monthly*, your customers can pay over time, while you get paid upfront.
Venmo as a payment method
Embrace the potential of Venmo, a popular payment option in the US for Millennial and Gen Z shoppers.
AI fraud detection
PayPal's AI software uses machine learning to detect fraud and evolving cyber threats to manage risk and promote peace of mind for your business and customers.
Improved checkout
PayPal has streamlined the checkout process to help speed up customer transaction times and reduce cart abandonment.
Grow your business globally
Receive payments in 200+ markets via 100+ currencies with multiple payment methods. With country-specific payment methods, you can reach international customers while making your business feel local.
Drive conversion with PayPal
PayPal's brand recognition helps give customers the confidence to buy. Research from Nielsen found that merchants who use PayPal see a 28% increase in checkout conversion.
Get started
If you're already using PayPal Express we recommend switching to PayPal Commerce, as it will be phased out over the coming months. You can easily switch to new version in a few minutes.
If you're just getting started with PayPal Commerce, you'll see the integration available in your dashboard.
See our documentation for additional information.
*About Pay in 4: Loans to CA residents are made or arranged pursuant to a CA Financing Law License. PayPal, Inc. is a GA Installment Lender Licensee, NMLS #910457. RI Small Loan Lender Licensee.
Join our mailing list
Get the latest from Swell,
right to your inbox