Digitizing cards and letters for B2B and DTC
Deltologic, a technical agency based in Berlin, chose Swell to build Wunderpen's storefront so they could streamline the purchase experience, easily manage order information, and connect to the existing ERP.
Localization
Pricing in EUR
Tech stack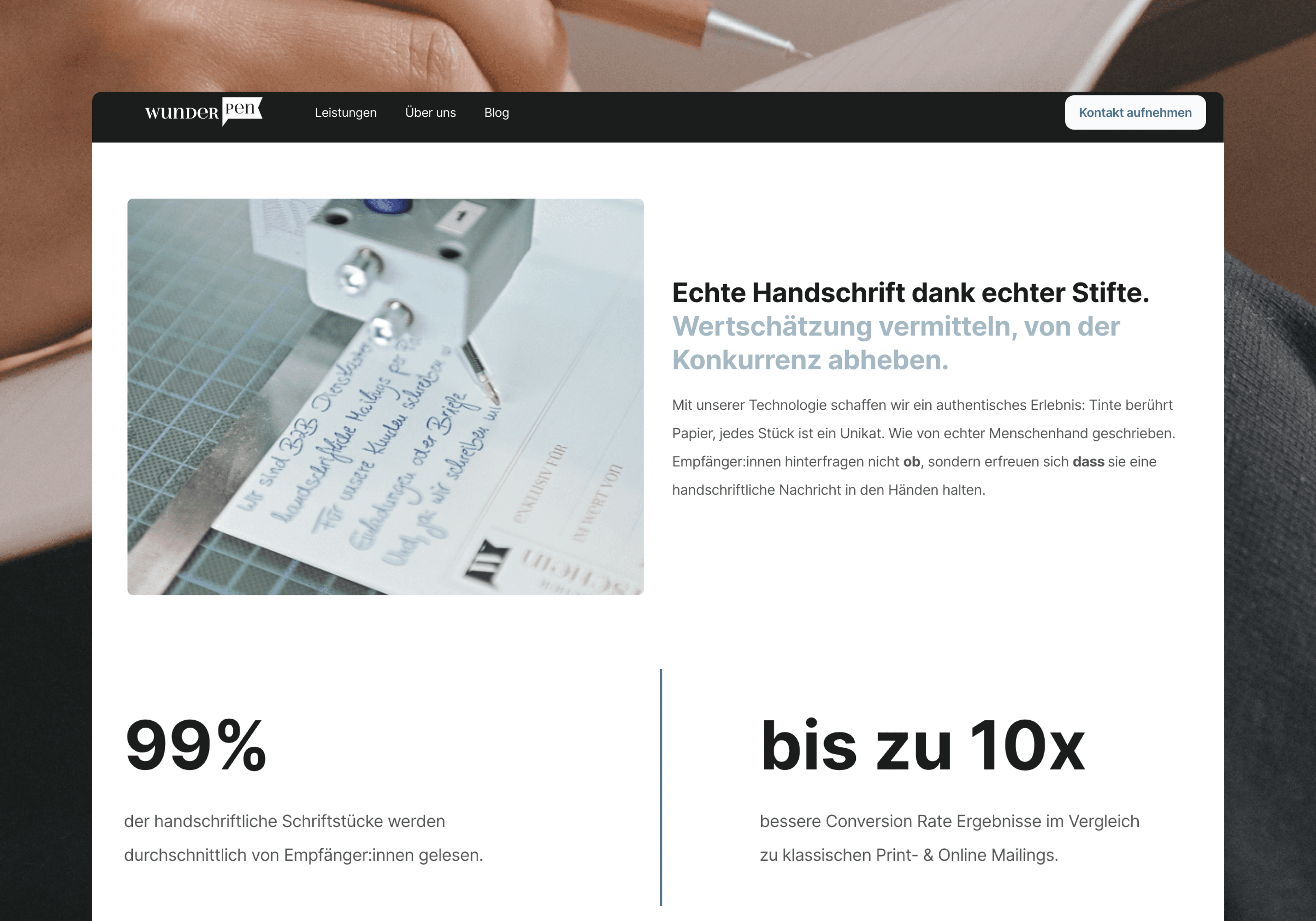 ❤️
Deltologic is a software consultancy dedicated to developing the most intelligent custom solutions for marketplace sellers. They are experts at helping marketplace sellers take their operations to the next level through innovation and technology.
This team of tech enthusiasts is passionate about finding new and creative ways to help their clients succeed. They focus on fully custom solutions instead of a one-size-fits-all approach to eccomerce.
About
Wunderpen is bringing back the art of the handwritten note with a distinctly modern twist. The young company based out of Berlin, Germany, has developed innovative technology that quickly and efficiently generates handwritten notes. Their proprietary machines recreate the swirling movements of an ink pen gliding across a page, making it easy to print unique cards at scale.
Customers can choose from a diverse selection of handwriting or pre-digitalized fonts of employees, friends, and family. Every note is unique, and it's virtually impossible to tell the difference between a Wunderpen card written by a robot and one written by a human hand. The company operates a self-serve store for individual customers, but thrives in the B2B space printing cards at scale for large corporations who want to send friendly greetings with a personal touch.
Challenges
Prior to building their website on Swell, Wunderpen didn't have an ecommerce storefront. Most orders were being placed manually through the sales team, who then transmitted that information to the production team. That process involved many team members, created inefficiencies, and increased costs.
Wunderpen turned to Deltologic, a software consultancy dedicated to developing the most intelligent custom solutions for marketplace sellers, to develop an ecommerce storefront that brings the full buyer journey online. After meeting with Wunderpen's CEO, Peter Lecour, and diving into the company's goals and ambitions, Deltologic concluded that Wunderpen needed an all-in-one system covering all of their business operations.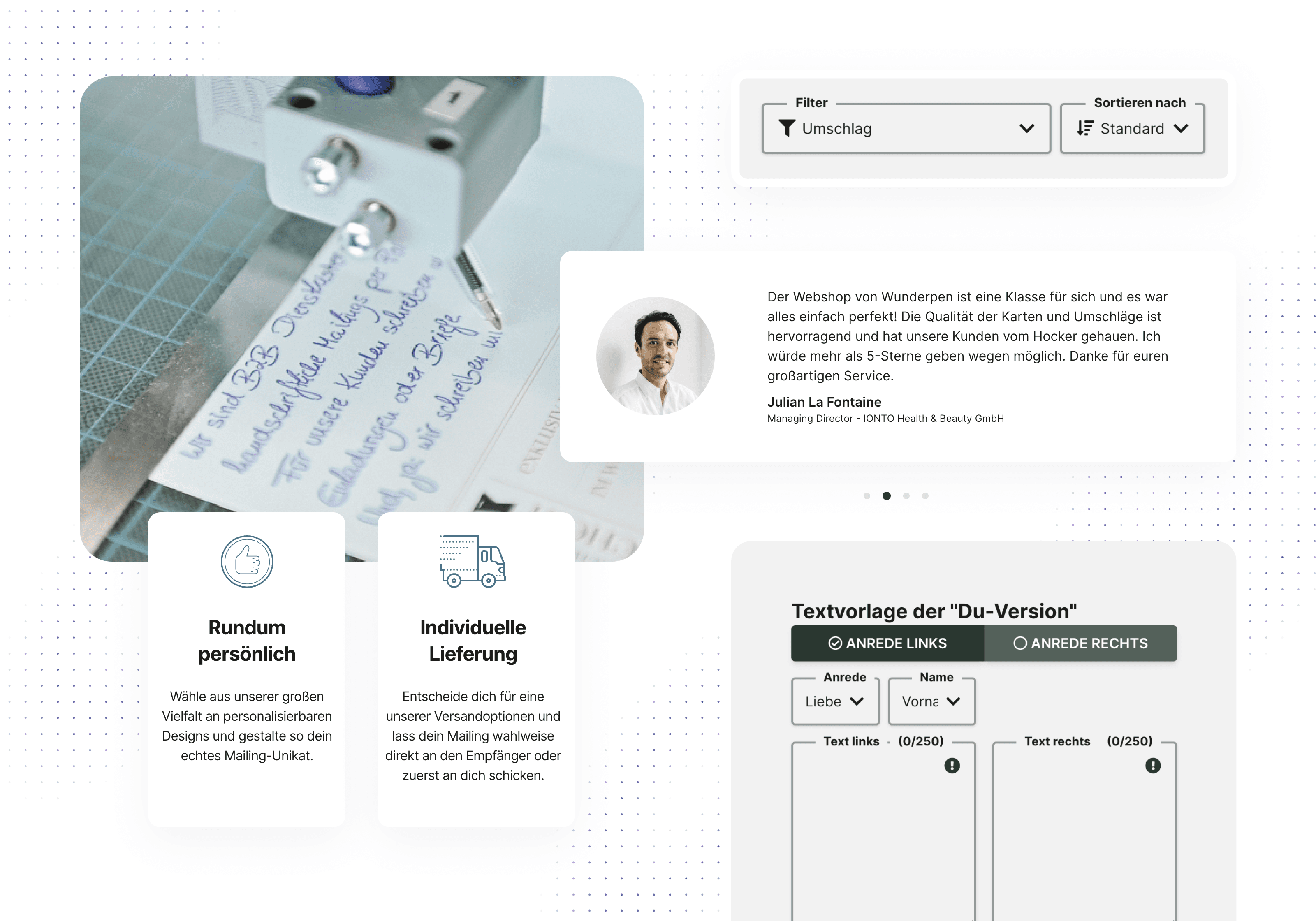 Solution
Deltologic developed a custom online store built on Swell where clients can easily browse Wunderpen's product offerings, input relevant order information like quantity and copy, and place their orders. The store is connected to Wunderpen's internal sales system and ERP, automatically redirecting order information for approval. After the sales team approves an order, it gets automatically sent to the printers for production.
By Deltologic's estimation, the new process is approximately ten times faster than the old system of manual operations—plus it completely removes the risk of human error.
Connect to existing business tools
Deltologic used Swell's flexible API to connect Wunderpen's existing workflows and inventory management systems in one place, enabling teams to access up-to-date anytime, anywhere.
Membership groups
Wunderpen used Swell's native customer groups feature to segment customers based on certain criteria, such as loyalty or purchase history. This enables them to provide exclusive discounts or automatic promotions at checkout to specific businesses or individuals.
Payment processing and order management
Deltologic integrated Stripe to create a flexible checkout experience for customers. Using Swell, Wunderpen is also able to manage sales, create custom workflows, and maintain a detailed record of orders to ensure their business runs smoothly.
Automated invoicing with custom properties
Efficient and seamless invoicing is critical for B2B operations. Wunderpen can create, send, and manage invoices for all of their customers using Swell's built-in invoicing system.
Shopify is great for small projects. It's easy and simple. But if you want something more unique, you need something more sophisticated like Swell.
Raffy Kumruyan
Head of Project Management