A modern cycling apparel brand going global
Velobici used Swell to create a more efficient product management system and easily bundle products to streamline operations and increase sales.
Localization
Pricing in GBP, EUR, CHF, USD, JPY, HKD, KRW, SEK, DKK, NOK, TWD, SGD, MYR, IDR, NZD, AUD, CAD
Teck stack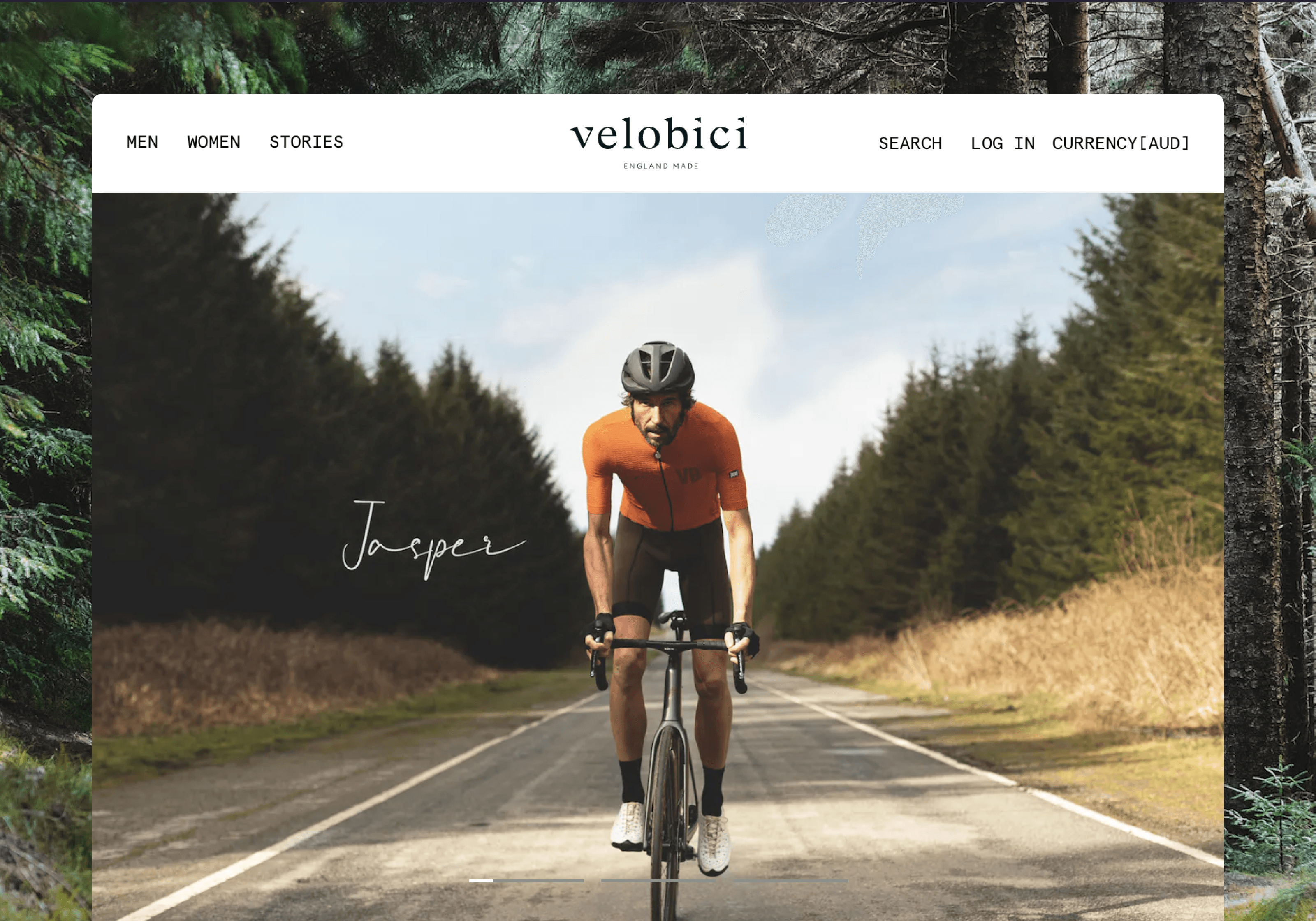 About
Velobici is a high-end cycling apparel company that designs and manufactures all of their products in Leicestershire, England using only the most innovative fabrics available. Every product made in Velobici's factory is the best quality when it comes to cycling roadwear. The designs are retro but classic, and they appeal to people who want to stand out while cycling without sacrificing performance.
Challenges
The Velobici team had previously been using WooCommerce and Wordpress, but they found the solution increasingly painful to use. The UI wasn't clear, stock management was a hassle, and, over time, the site became a mess of plugins and add-ons built on top of each other.
As Velobici expanded, the company realized their tech solution wasn't working for them anymore. Adding new products and collections to the store continued to be an acute pain point. Looking to the future, Velobici needed a platform with better native features and a more intuitive dashboard that enabled them to add new products, manage old ones, and rebrand their website with ease.
They began researching solutions with a better UI experience that would still enable them to build a beautiful branded storefront. That's when they found Swell.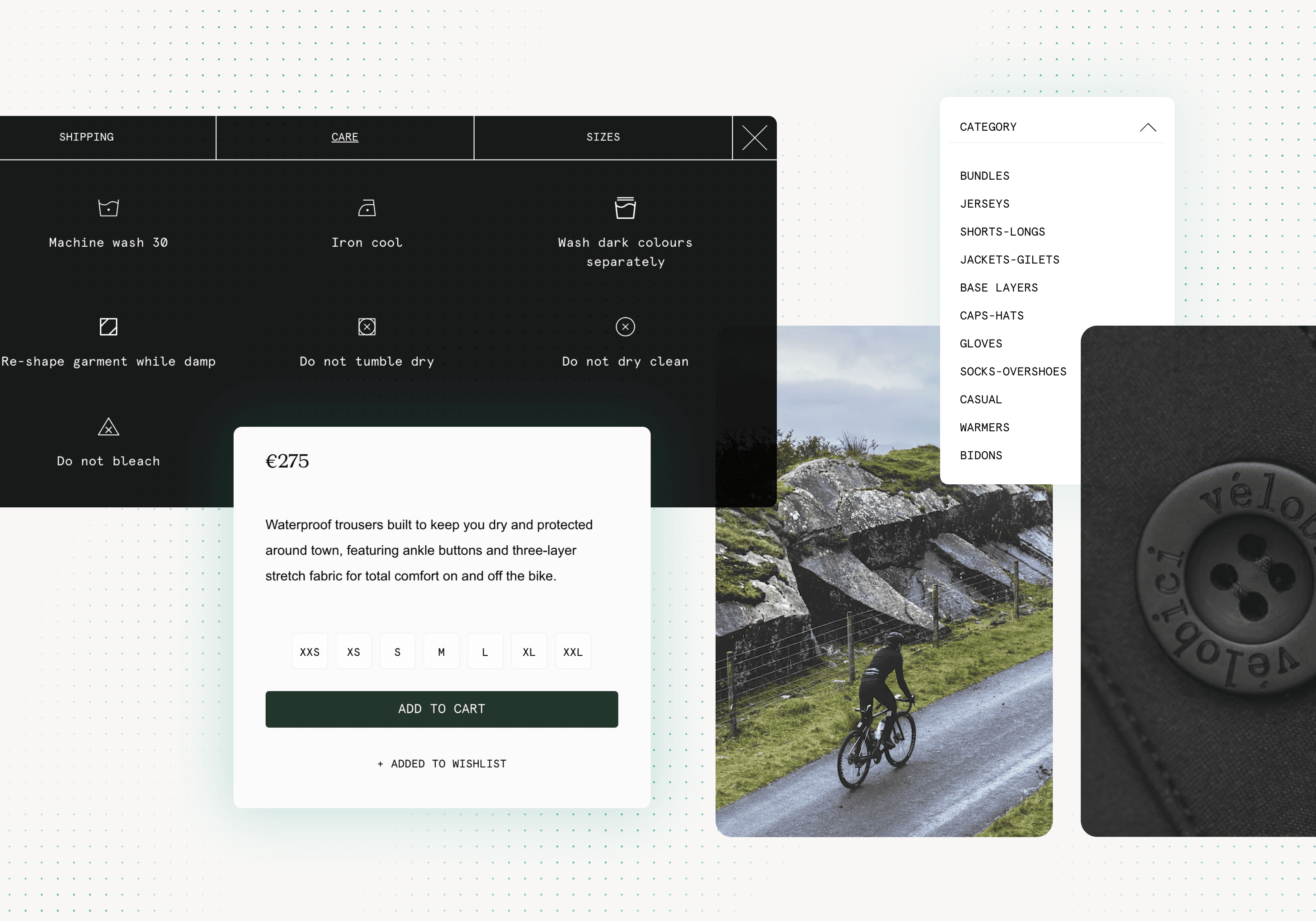 Solution
Moving to Swell helped Velobici scale their business and feel confident about the future. Thanks to Swell's powerful admin features and built-in apps, they've been able to better streamline their operation and focus on bigger more important goals — like expanding their business to a global customer base.
Product bundling has been an especially important feature. Since cycling products are often sold as full kits, it was important for the Velobici team to be able to quickly set pricing for product bundles that made sense for their customers. Bundle sales now make up 75 percent of Velobici's revenue.
Velobici also took advantage of Swell's flexibility to completely customize their checkout experience, reinforcing their brand image and messaging along every step of the customer's purchasing journey.
Product bundles
Using Swell's native product bundling feature, Velobici is able to combine multiple products into one bundle to sell full cycling kits at a predetermined discount price. Bundling has helped the company increase revenue and build customer loyalty.
Multi-language
Velobici is headquartered in England, but the company has customers everywhere from the United States to Europe to Japan. They use Swell's multi-language feature to offer customers a tailored experience regardless of their geographical location.
Multi-currency
Velobici's also offers customers the ability to purchase cycling wear in their own currency to make the purchasing process even more seamless. With Swell, they can set manual and automatic price rules, conversions, and formatting.
Product management
Before switching to Swell, Velobici struggled with product management. With Swell, the Velobici team was able to easily create and manage a product catalog, maximize product visibility on their storefront, and personalize offerings for customers.
When we made the decision to rebrand our website, we had a tight budget. For what Swell was offering compared to what Shopify was offering, Shopify was more expensive.
Christopher Puttnam
Founder and Director of Velobici