An innovative platform for one-of-a-kind jewelry
THE RAYY chose Swell so they could seamlessly customize their storefront, integrate data, and add new products and features.
Localization
Pricing in EUR, USD, CHF
Tech stack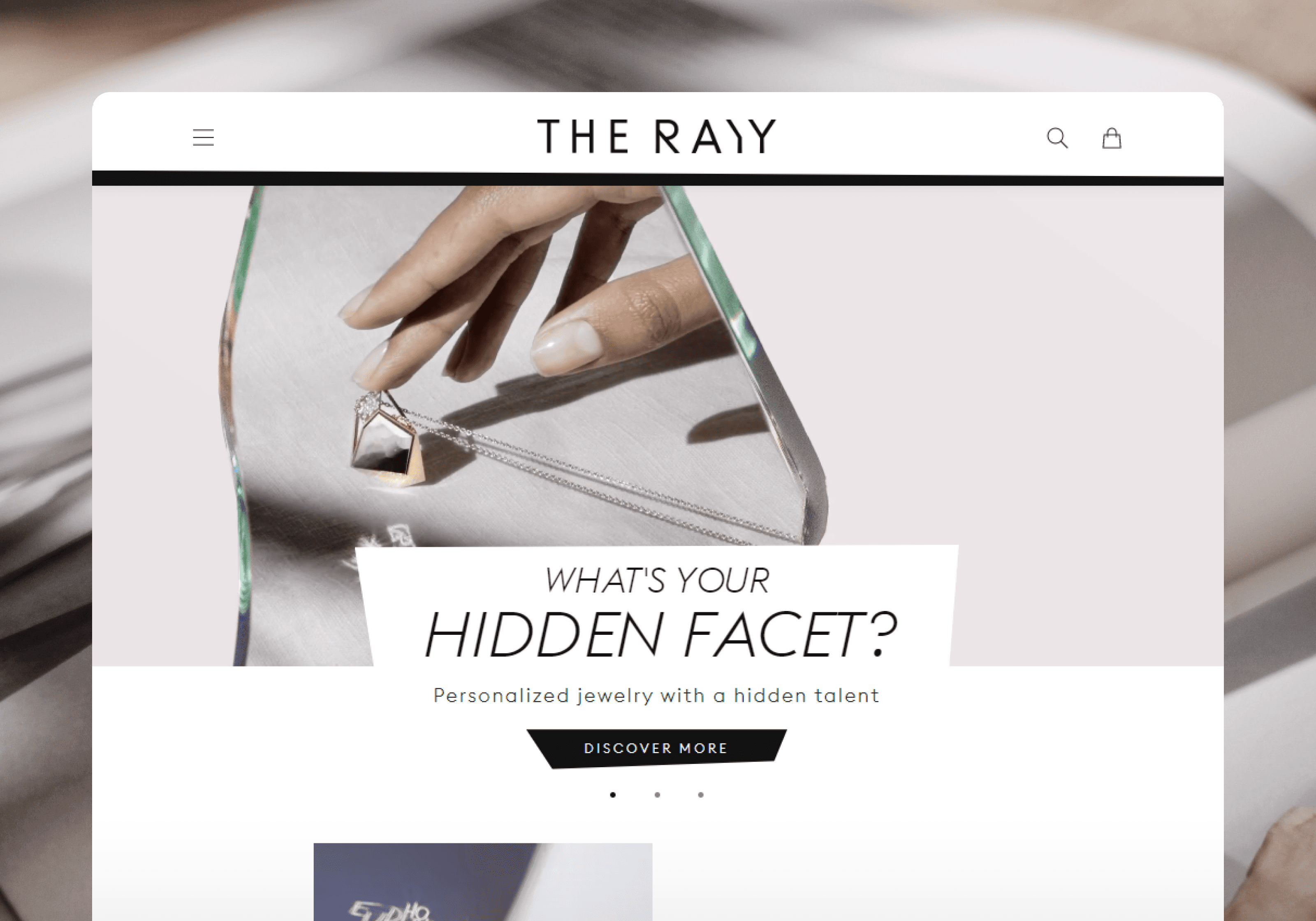 About
THE RAYY uses world-first technology to inscribe messages of light into recycled gold jewelry—secret messages that only sunlight can reveal. It took co-founders Romain Testuz and Yuliy Schwartzburg eight years to research and develop the company's unique, patented algorithm that deploys advanced optical simulation and high-precision tools to bring hidden words and symbols to life. To match their product, they needed an innovative platform to help them sell online.
Challenges
THE RAYY's products are one-of-a-kind, but their ecommerce platform was not. Originally launched on BigCommerce, their online store had become too challenging to manage. THE RAYY's unique product modeling needs (ethical, sustainable, personalized messages) required a powerful solution that only headless technology could offer.
With a new collection coming out, they were eager to redesign their website, but kept running into the same technical issues again and again. It became clear that adding a new collection with their existing tech stack would be a huge undertaking, and they made the decision to replatform.
Knowing they needed a unique online experience to effectively sell their products, they started researching headless solutions. That's when they found Swell.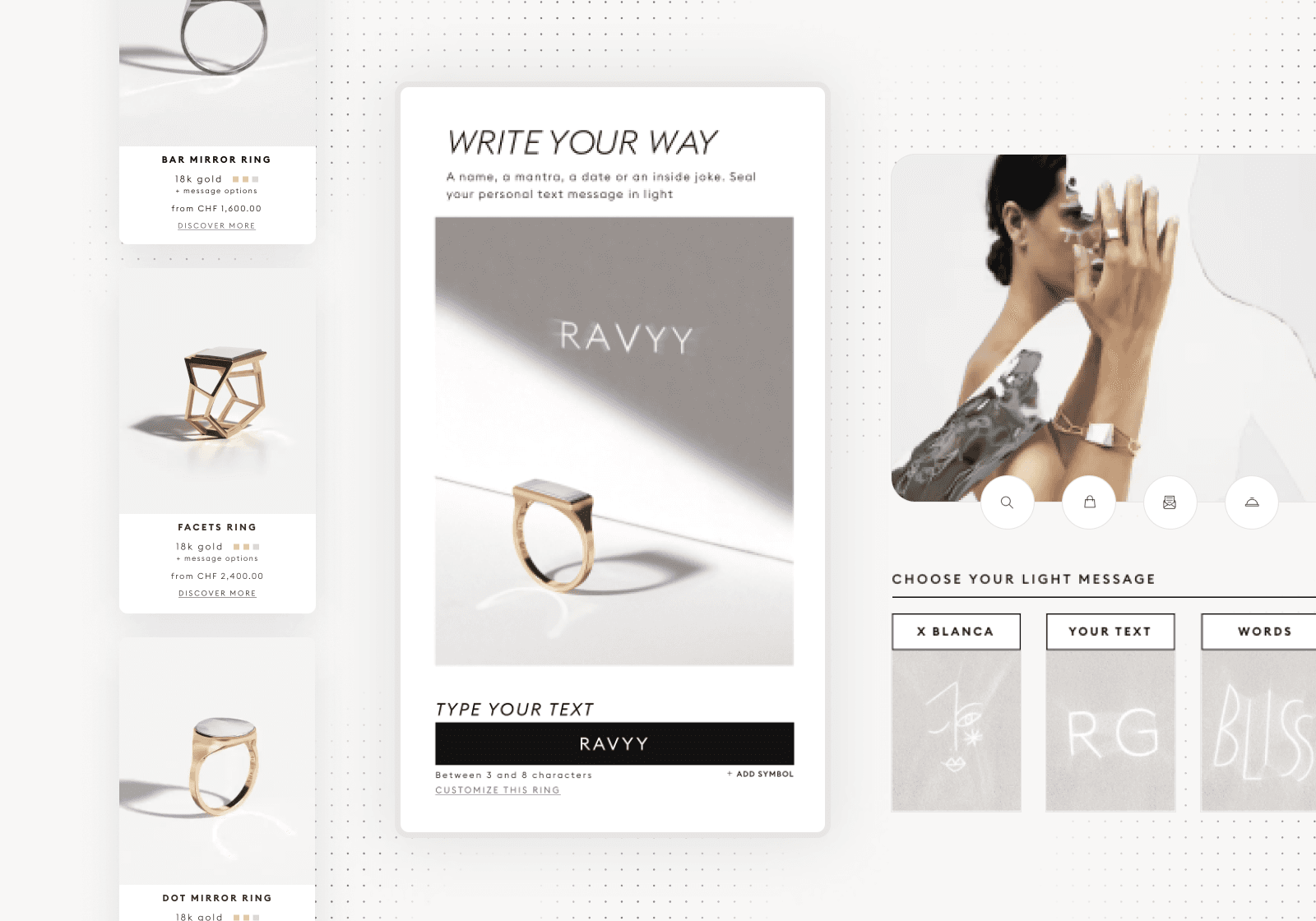 Solution
Swell made it possible to design a beautiful experience to match THE RAYY's jewelry: unique and lovingly-crafted.
And it wasn't just better for customers. Swell's flexible back end and intuitive dashboard made it easier for THE RAYY's team to add new products, manage old ones, and update their store with each new collection – all without the hassle of hacking multiple solutions together.
Today, THE RAYY is a global brand selling products in three different currencies and shipping to customers around the world. Swell's built-in multi-language and multi-currency features were key in optimizing these operations, features most headless platforms don't offer out-of-the-box.
Multi-language
THE RAYY used Swell's multi-language feature to offer customers a tailored experience regardless of their geographical location. This can easily be done using the Swell admin and API.
Multi-currency
In addition to multiple languages, THE RAYY also made use of Swell's multi-currency functionality to offer customers the ability to purchase goods and services in their own currency. With Swell, you can set manual and automatic price rules, conversions, and formatting.
Custom options
Each piece of jewelry from THE RAYY in unique, Swell allowed them to easily set up custom options for personalized or made-to-order jewelry items like text selections, metal type, and size.
Product management
Using Swell, THE RAYY was able to create an expansive product catalog, maximize product visibility on their storefront, and personalize offerings for customers.
Worldwide tax rules groups for regions and product types
Since THE RAYY ships its fine jewelry all over the world, they needed to be able to create groups based on location and product type to ensure accurate tax calculation at checkout and simplify compliance with tax laws. They were able to set this up seamlessly through Swell's dashboard.
We are really happy with where our site is now. Other jewelers compliment us all the time.
Yuliy Schwartzburg
Co-founder